ZENITY: An oasis of peace in the middle of a big city
Project name: Zenity
Investor: CapitaLand Development
Location: 608 Vo Van Kiet Street, Cau Kho Ward, District 1, Ho Chi Minh City
Scale: 1 21-storey tower, 198 apartments
Type of apartment:

2 bedrooms: (69 - 85m²);

3 bedrooms: (97 - 103m²);

Duplex: (127 - 164m²);

Penthouse: (183m²);

Expected amenities: Luxury dome lobby, landscaped lake, park, aerial Gym, Spa, kindergarten, co-working space, infinity saltwater swimming pool, Party house, BBQ, Jacuzzi, Sauna...
Legal: Long-term ownership for Vietnamese people, 50 years for foreigners
Estimated handover time: Official handover of the apartment (expected quarter 3/2024)
Located in the heart of bustling District 1, ZENITY offers you a world of tranquillity, and genuinely comfortable life, away from the hectic pace of Ho Chi Minh City. Considered an oasis of peace in the middle of a metropolis, ZENITY is a blend of peace and privacy, with a range of modern amenities and timeless designs. Elevating contemporary style, ZENITY is the perfect place for individuals and families to relax and enjoy a resort-style right in the city's heart.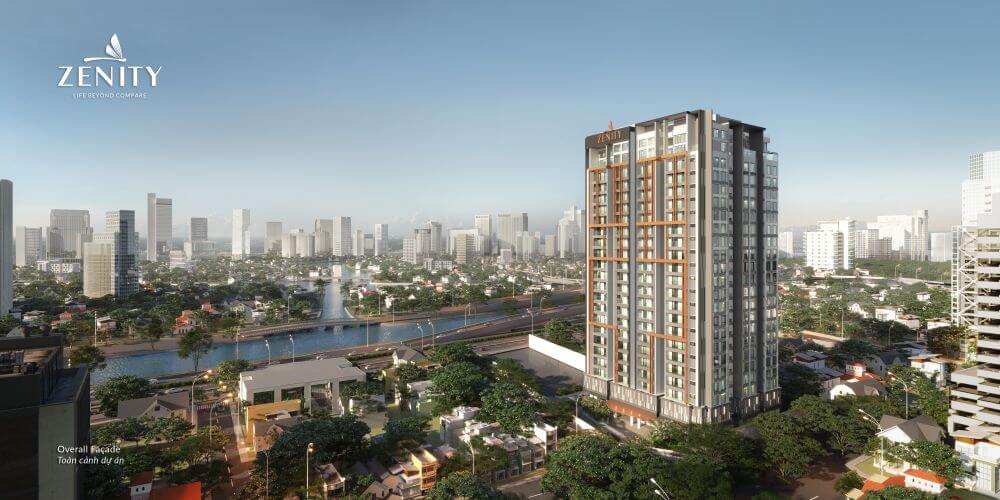 ZENITY PROJECT LOCATION: DISTRICT 1
Zenity Capitaland project is located in the economic and commercial center of Saigon at 608 Vo Van Kiet Street, Cau Kho Ward, District 1, Ho Chi Minh City and only a few hundred meters from Nguyen Van Cu Bridge. With the frontage of East-West Boulevard, Zenity Vo Van Kiet easily connects to almost all Ho Chi Minh City districts. Vo Van Kiet Boulevard with eight lanes, running through Districts 1, 5, 6, 8, Binh Tan, Binh Chanh and Thu Duc, ensuring that Zenity's residents can move conveniently from the center of District 1 to most of the eastern and western districts of Ho Chi Minh City. This boulevard also connects with ten bridges and two overpasses, easily connecting traffic with inner city roads or western provinces.
Located in District 1, Ho Chi Minh City, the Zenity project also inherits the country's most developed and synchronous infrastructure system. Around Zenity Capitaland and Cau Kho ward, District 1 is considered the place with the highest per capita income in the country. The infrastructure here has been synchronously and scientifically planned and is still prioritized for completion and upgrading year by year to ensure the model urban face of the nation's economic locomotive.
Projects of upgrading and embellishing prominent urban areas with upgrading and extending Nguyen Cu Trinh, Tran Dinh Xu and Le Thanh Ton streets; widen alley 68 Tran Quang Khai, renovate two intersections Nga Sau Phu Dong and bridgehead Dien Bien Phu - Nguyen Binh Khiem; new construction of Khanh Hoi bridge, Dien Bien Phu bridge, Thi Nghe bridge, Ong Lanh bridge, Bong 2 bridge. In addition, small alleys under 12m wide are also planned to be upgraded and expanded synchronously in 2021-2025.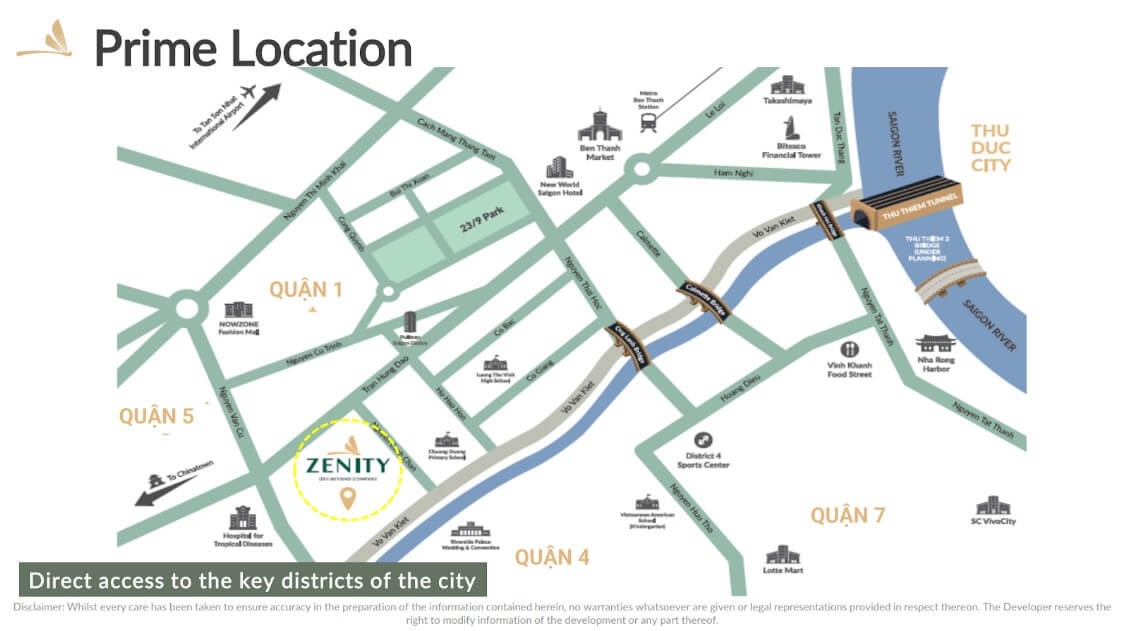 UTILITIES OF ZENITY CAPITALAND PROJECT
Zenity Capitaland owns a chain of internal facilities of 6-star hotel quality, focusing on green space and privacy. Accordingly, right on the ground floor at the entrance is the reception hall with a unique and luxurious dome design. The spaciousness and high class impress the project's parking lot and reception area. The utility area is not too large but still has enough necessary facilities to serve the daily needs of residents. The ground floor has a swimming pool, jacuzzi, banquet hall, lounge, and children's play area. The mezzanine floors and rooftops are unique resort-style facilities such as an outdoor multi-purpose sports area, a glass-clad GYM room overlooking the city center, a saltwater swimming pool, a jacuzzi, Dome. In addition, the project also has some additional facilities such as a BBQ area, community room, Co-working space and landscape lake. All internal utility spaces bring a sense of comfort, relaxation, and Zen.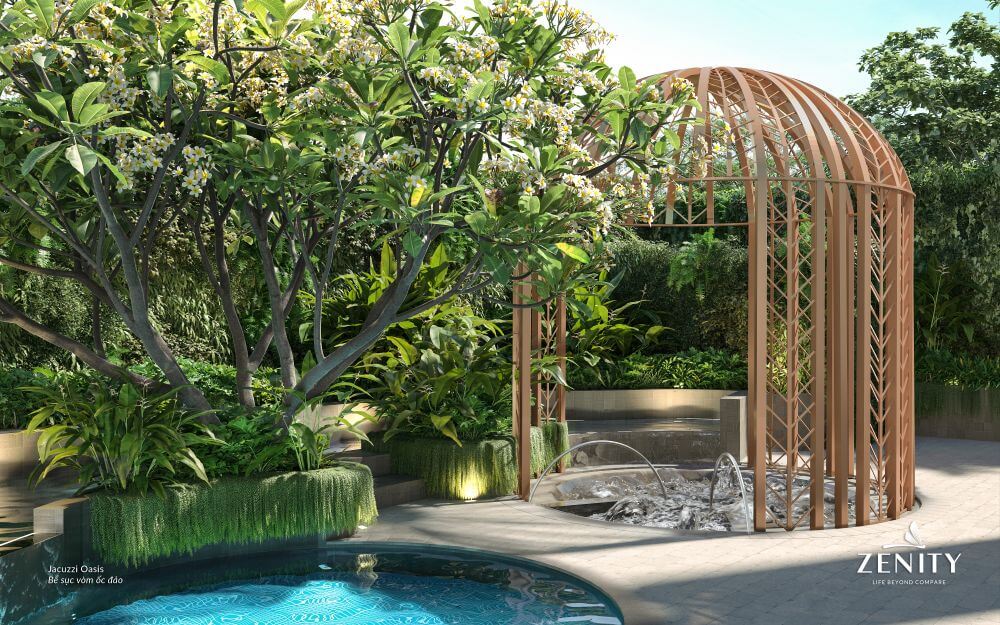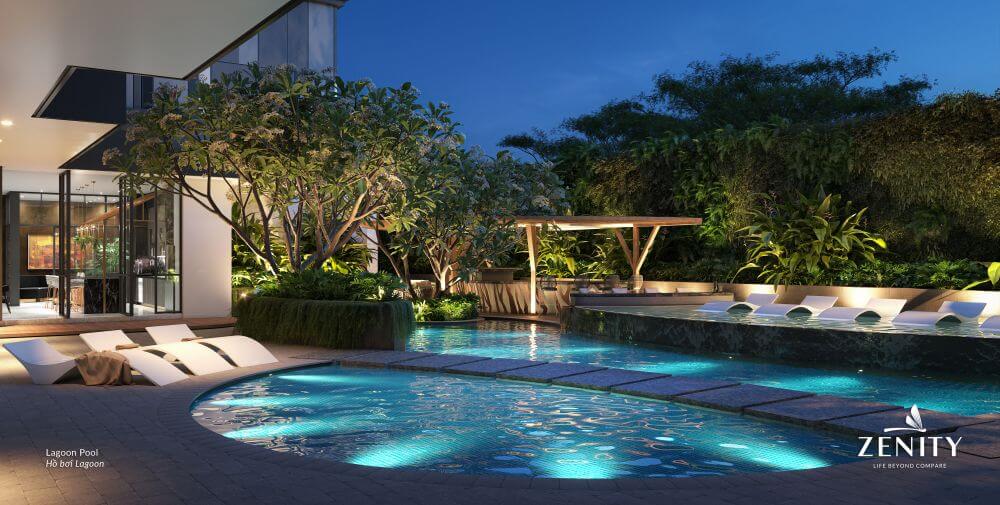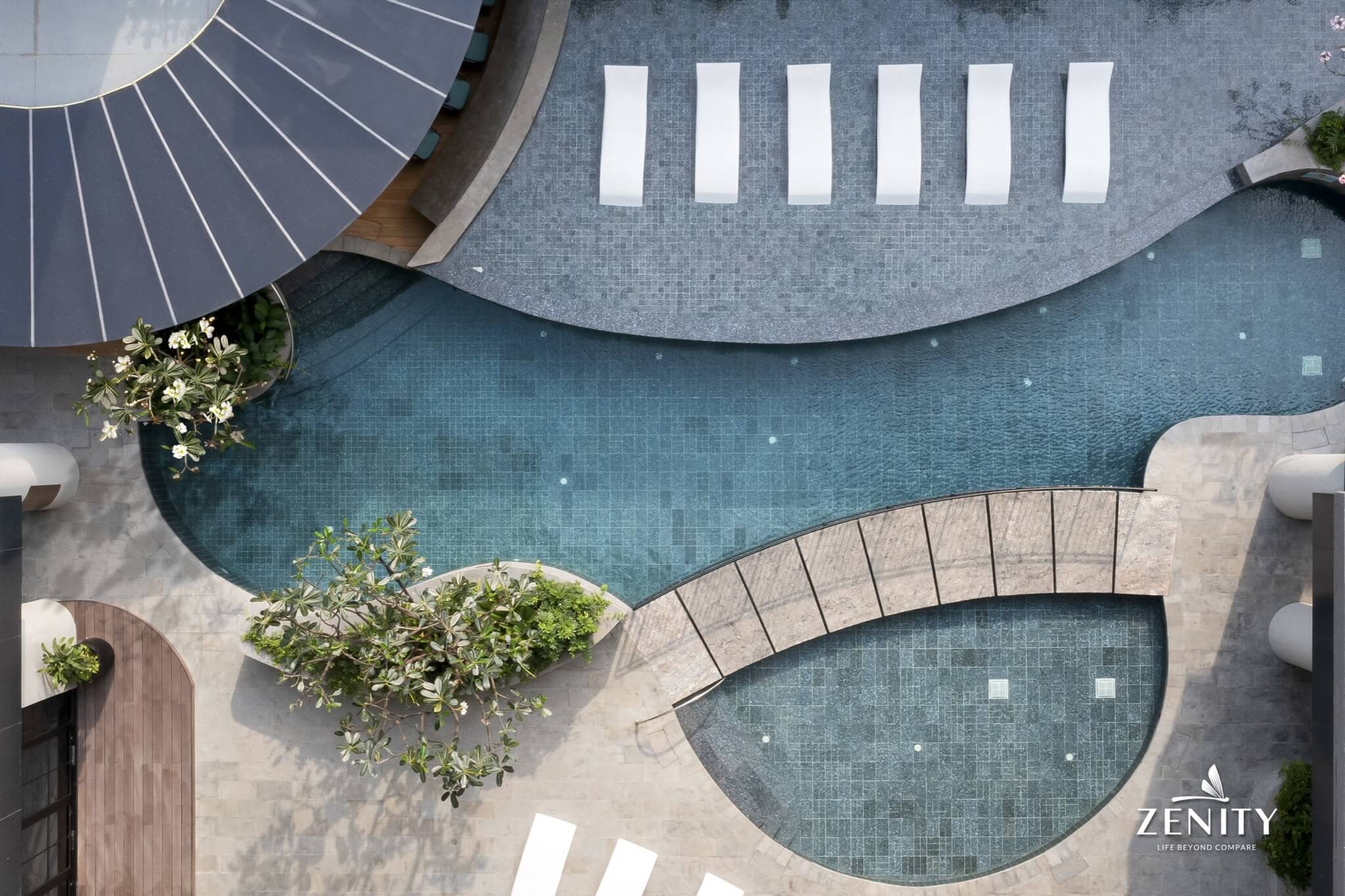 In terms of external utilities, within a radius of 3km from the Zenity project location, there are full of shopping malls such as Nowzone (1.5km), Saigon Center (1.8km), and entertainment areas such as Bui Vien Street (2 km), Nguyen Hue pedestrian street (3.4km), Bitexco international financial tower, restaurant, cafe. Accordingly, residents of Zenity Apartment District 1 have many options for relaxation and entertainment. The resident of Zenity easily accesses hospitals, universities, and financial centers. It takes less than 15 minutes to connect with the University of Economics, Pham Ngoc Thach Medical University, Fine Arts Museum, Ho Chi Minh City Theatre, Saigon Post Office, Independence Palace, and Ben Thanh market.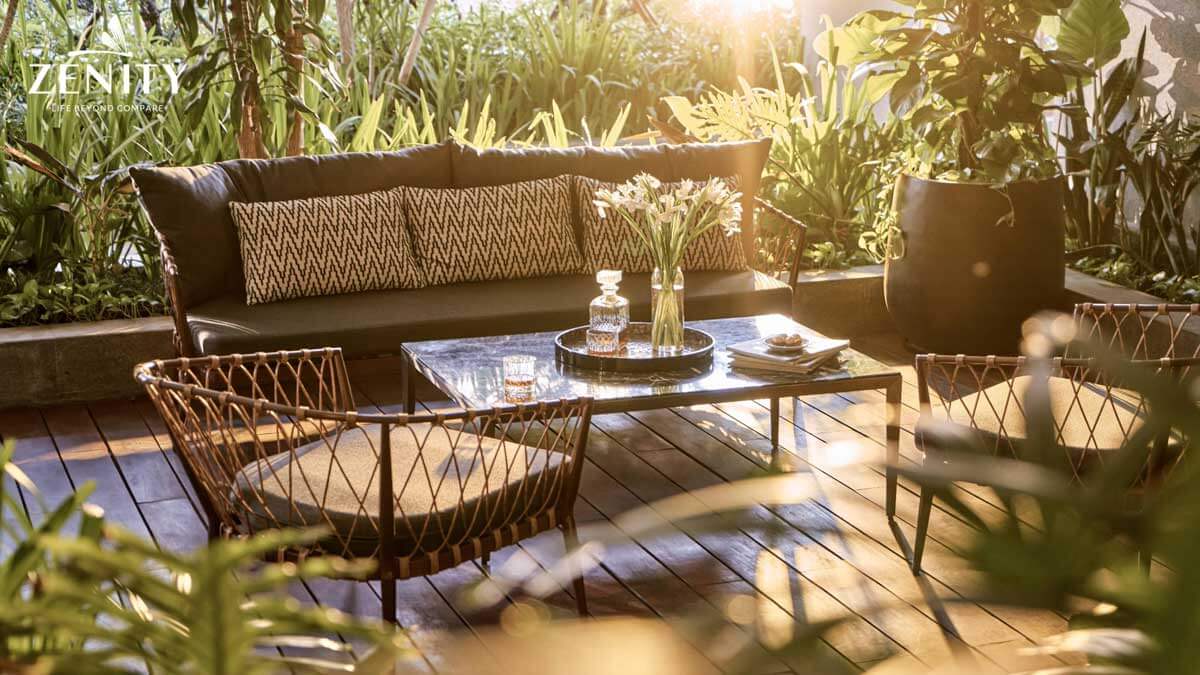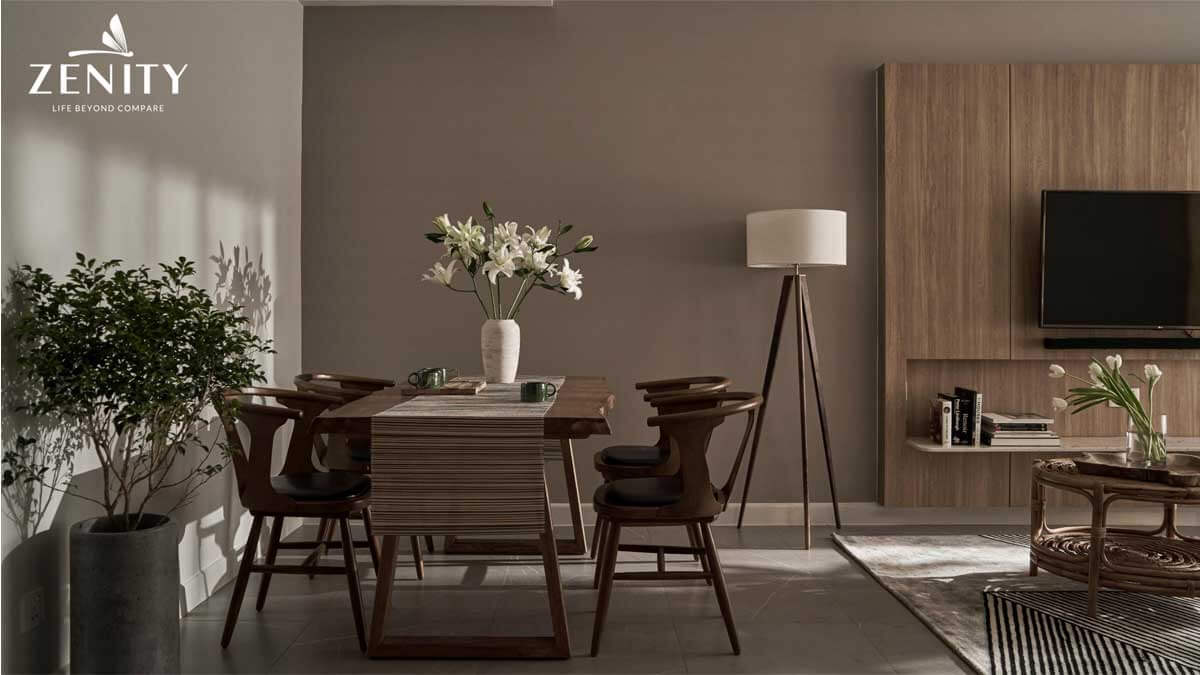 DESIGN OF THE ZENITY CAPITALAND PROJECT
The overall plan of Zenity Capitaland is planning on the central golden land of District 1 with an area of ​​2,948.2 m2 construction density of 31.2%. Zenity apartment project has a reasonably open density, totalling only 198 apartments. Each floor has ten apartments with four elevators and four typical models, designed with 2-3 bedrooms, no 1-bedroom apartments. The 2-bedroom apartments have an area of ​​69-97m2, and the 3-bedroom apartments have an area of ​​102.6m2. In addition, the Zenity project also has some duplexes and penthouse apartments. The design of Zenity apartments in District 1 follows the Tropical style, creating a feeling of green and relaxation. At the PropertyGuru Vietnam Property Awards 2021, the Zenity apartment project won the category "Best luxury apartment interior design". The design of full glass doors and a large balcony helps Zenity apartment to get light, catch the natural wind and make the most of the view. From the balcony of some apartments, you can see the Bitexco building for apartment owners to enjoy the night view and watch fireworks on holidays and Tet.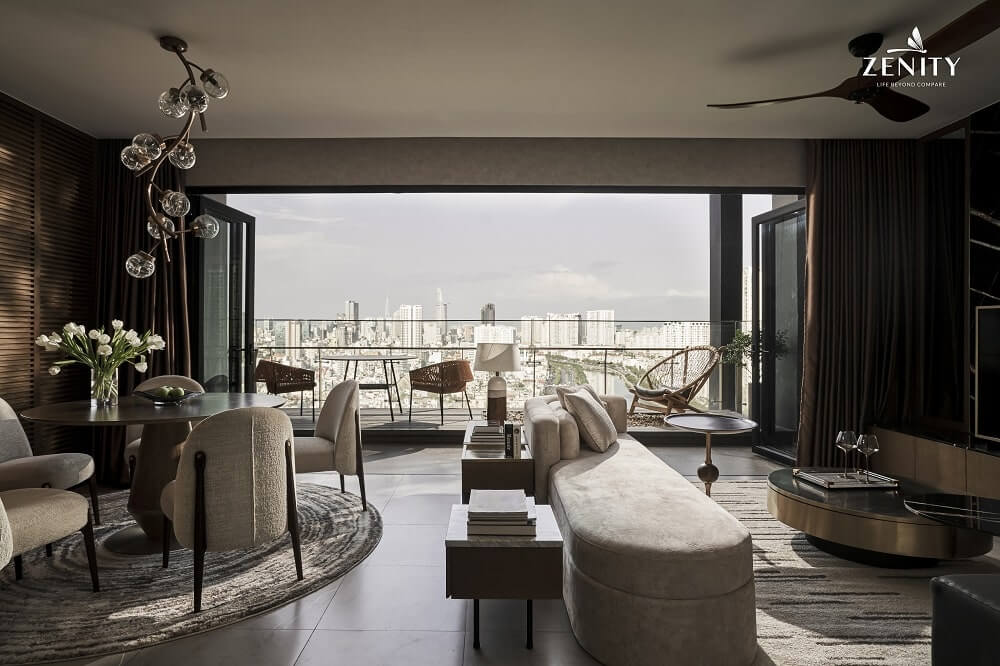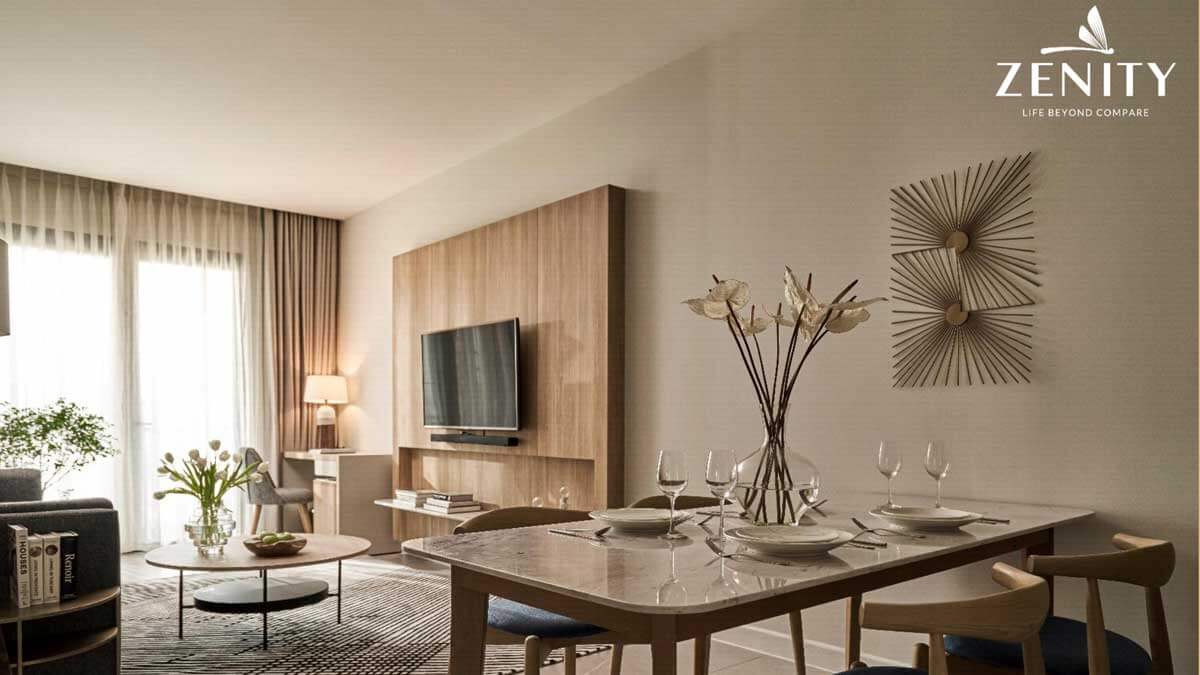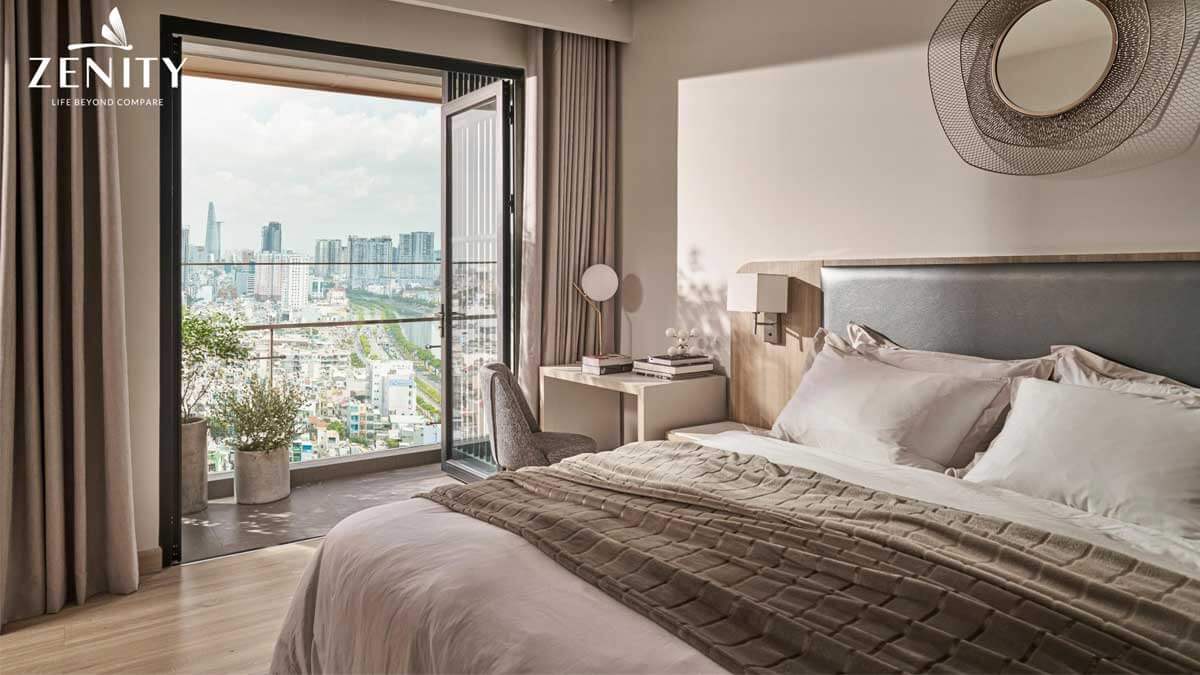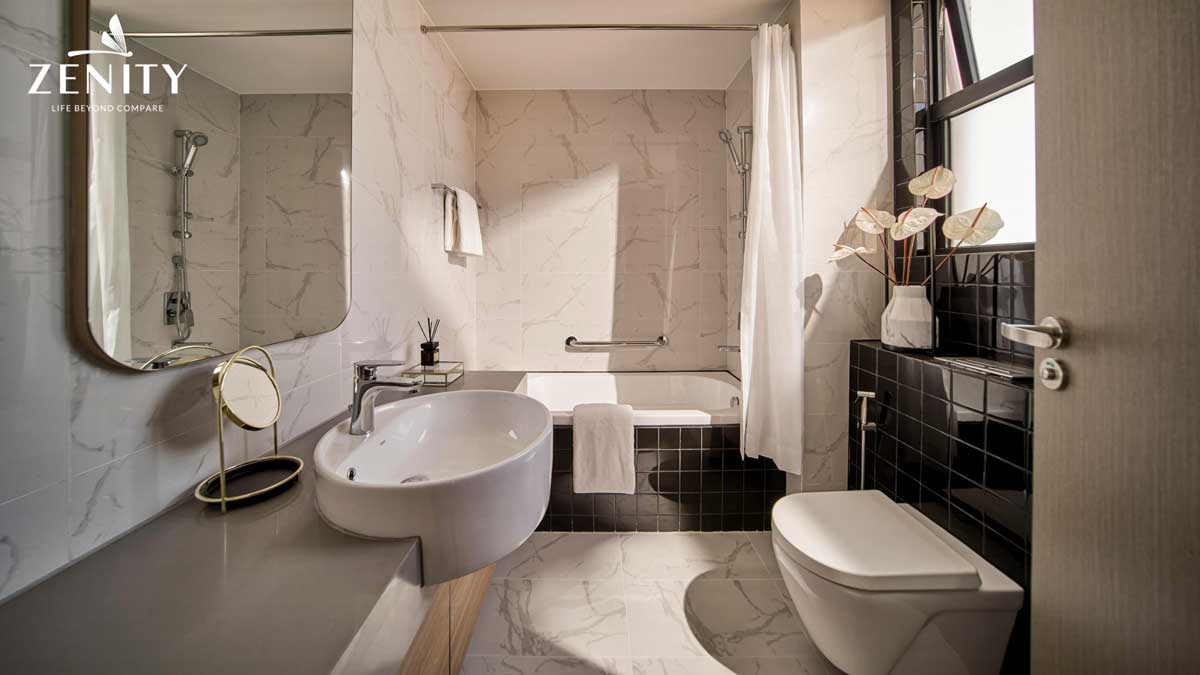 The highlight of ZENITY is that the apartment here is handed entirely over from the living room, dining room, kitchen, bedroom and bathroom to meet 6-star hotel standards. Luxurious interior design by KAZE, an internal design unit famous for projects for several international hotel chains, skillfully creates a contemporary design style through a harmonious combination of Natural colours, decorative accents, and signature motifs exude a minimalist and attractive look to the project.
PRICE OF THE ZENITY CAPITALAND APARTMENT PROJECT
Zenity apartments have an average selling price of 150 million/m2. The price may be a little higher in some corner apartments and beautiful locations. This price is quite attractive with a high-end apartment project in District 1 like Zenity. Compared with the selling price of some neighbouring projects, in the same high-end segment as The Grand Manhattan or The MarQ (from 180 million/m2), Zenity apartments have a lower average selling price and are entirely handed over furniture.
Sales policy:

Pay 30% ready to move in

Enjoy 02 years management fee waiver.

Flexible payment scheme, only 1% per month, payable in 02 years without interest.

Full legality and Rent out with ease.
Zenity project quick payment schedule (September 2022)

1st instalment: 10% payment - Sign sales contract (July 2022)

2nd instalment: 20% payment (Q3/2022)

3rd instalment: 70% payment - Temporary apartment handover (Q3 2022) - Bank support for bank loan 70% of apartment value - Interest rate support for 24 months.

The remaining cart of the project: (September 2022)

With a series of outstanding advantages and the best sales policy and price in the area, the remaining cart of the ZENITY project in District 1 currently has less than 80 apartments.
CONSTRUCTION PROGRESS OF ZENITY CAPITALAND PROJECT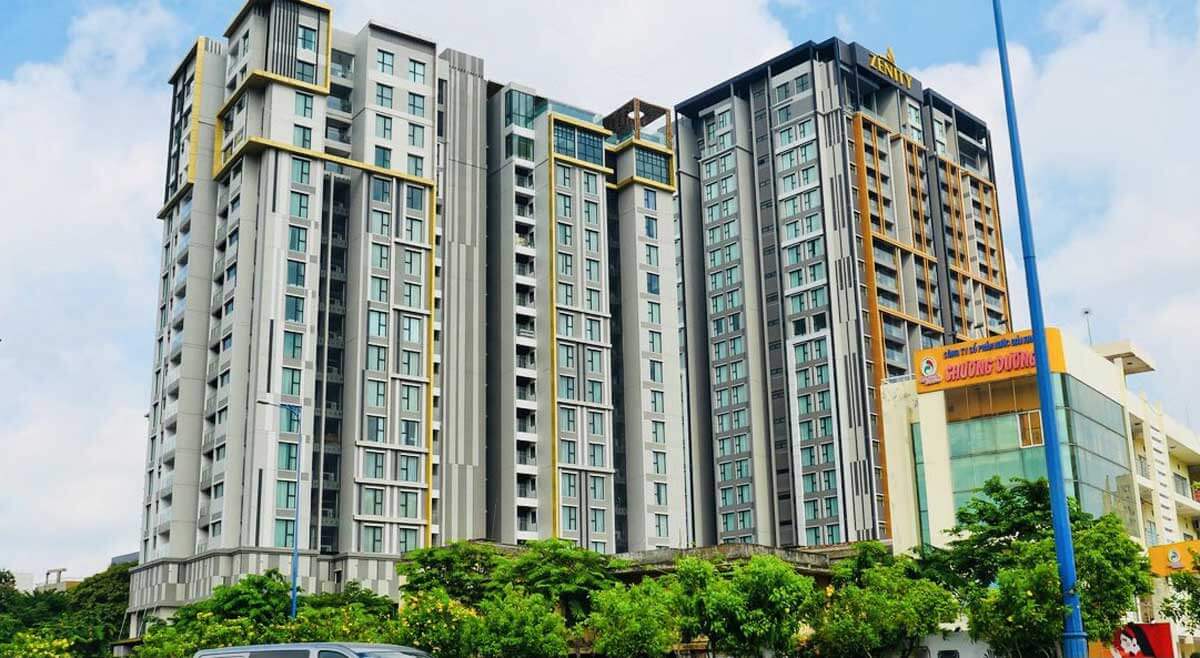 ZENITY CAPITALAND with high-class utilities focusing on community health values and apartments with complete interior design for residents who can move in or rent out immediately. In addition to various facilities, ZENITY offers peace, where vibrant urban life blends with the tranquillity and privacy of the project. True to the name of "an oasis in the heart of the city", ZENITY cherishes spiritual values and leads a peaceful walk for each apartment owner.

VIPROPERTY CO.,LTD
Mua bán, Cho Thuê, Quản lý, Thiết kế & cung cấp nội thất căn hộ chung cư.
PURCHASING, LEASING, MANAGEMENT, FURNISHING APARTMENT
购买、出租、管理、设计与家具供应。
☎ Hotline: (+84) 986 888 100
✉️ info@viproperty.vn
-----------