VIPROPERTY [Weekly News Highlights | June 29th - July 05th, 2020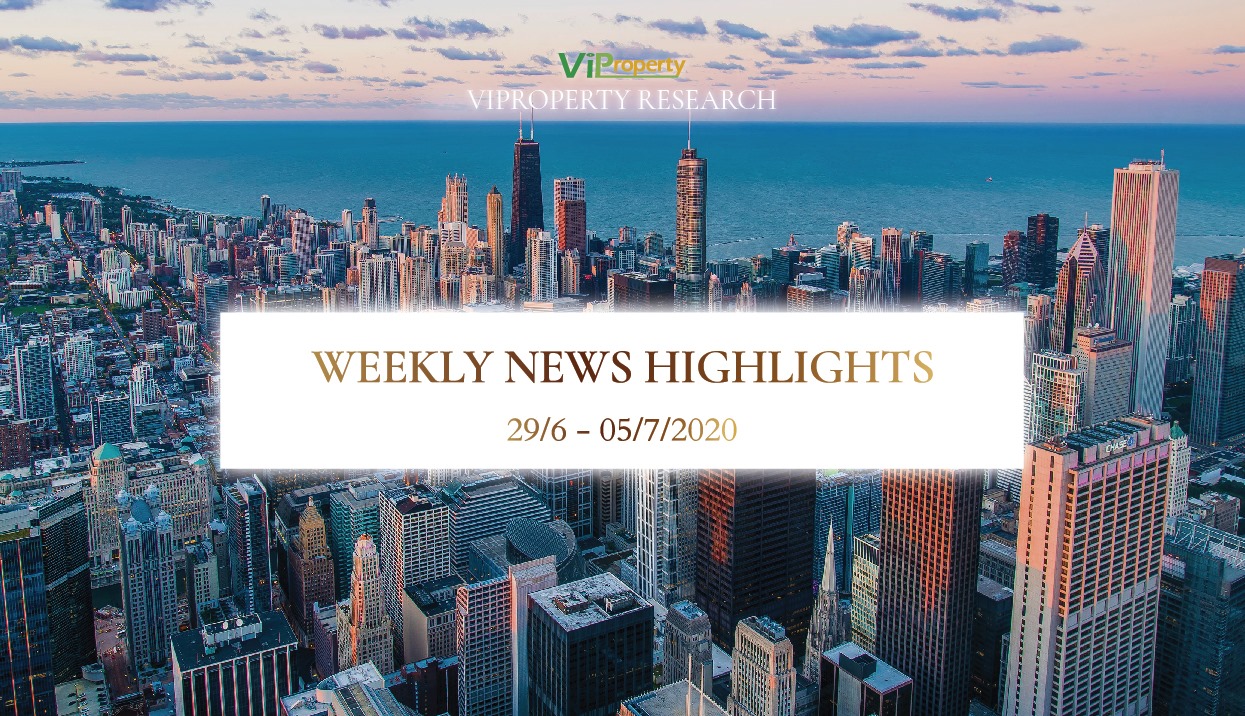 📣 VIPROPERTY [Weekly News Highlights | June 29th - July 05th, 2020
I/ Vietnam News 🇻🇳:
1. Vietnam reports increases in new enterprises in all sectors.
2. CPI likely to increase by 3.5 - 4% this year: experts.
3. New Joint Commission on Vietnam-Italy Economic Cooperation formed.
4. New investment wave starts despite COVID-19.
5. Vietnam, US look to balance trade.
6. Danish companies exploring investment opportunities in Vietnam.
7. Vietnam, Japan seek to expand bilateral trade ties.
8. Vietnam, Israel boost business, investment partnership.
9. Vietnam-Malaysia relations to see positive changes after signing of RCEP.
10. Government holds dialogue with European business community.
11. Vietnam, RoK seek to foster cooperation.
12. Half-year trade surplus hits US$4 billion despite COVID-19.
13. China maintains position as largest Vietnamese import market.
14. Domestic property market facing uncertainty: Insiders.
15. M&A deals could help businesses restructure amid pandemic.
II/ Hanoi News 🌆:
1. First train of Hanoi's second metro line undergoes test run in France
2. Hanoi devises two growth scenarios for H2
3. Hanoi moves towards approving construction of third Aeon Mall
4. 229 projects were granted investment certificates by Hanoi
5. More than 93,000 m2 of Grade A offices about to enter market
III/ Ho Chi Minh News 🏙:
1. Vietnamese firm eyes $1 billion elevated road project in HCMC
2. Housing demand remains high in HCM City despite COVID-19
3. HCM City set to launch businesses support initiatives.
4. HCM City should seek to push ahead with ODA disbursement
5. Remove difficulties hundreds of housing projects.
6. VND 1,200 billion disbursed capital allocated for Long Thanh airport project.
7. Proposing the Government to approve the Ho Chi Minh City - Trung Luong Expressway toll project.
8. Ho Chi Minh City will complete 32 key transport projects this year.
9. Saigon metro faces delay as experts unable to enter Vietnam.
10. Japanese retailer Muji to make Saigon debut.
➡️ Please comment or inbox your email to get the full article.
------------------------------
VIPROPERTY
Providing one-stop professional service for real estate investment and renting in Vietnam.
☎️HOTLINE: +84 986 888 100 – WECHAT/KAKAO TALK
🛎Website: https://viproperty.vn/
🔑Facebook: https://www.facebook.com/VIPropertyJSC/
🎞Youtube: https://www.youtube.com/channel/UCXLfh6iRngMDNiPrTmtE20A
#viproperty #realestatevietnam #news #highlightnews