The Ring Road 3 investment in Ho Chi Minh City
The investment policy of The Ring Road 3 of Ho Chi Minh City, connecting Ho Chi Minh City, Dong Nai, Binh Duong and Long An, has been approved by the National Assembly. This road will be an arterial road promising to create a breakthrough in traffic and widen the space for urban development in the Southern critical economic region.
If you have the opportunity to go through the Binh Chuan - Tan Van road, you will feel the difference between this road compared to many narrow and often congested roads in the same area. With 6-8 lanes, this is an important route for transporting goods from industrial zones in Binh Duong to Saigon ports and Dong Nai to reduce the road traffic load on National Highway 13 and Provincial Road 743. This part of Binh Chuan - Tan Van road, with a length of 16.7km, is part of the big project of Ring Road 3 in Ho Chi Minh City, with a total distance of nearly 100km that has been approved since 2011.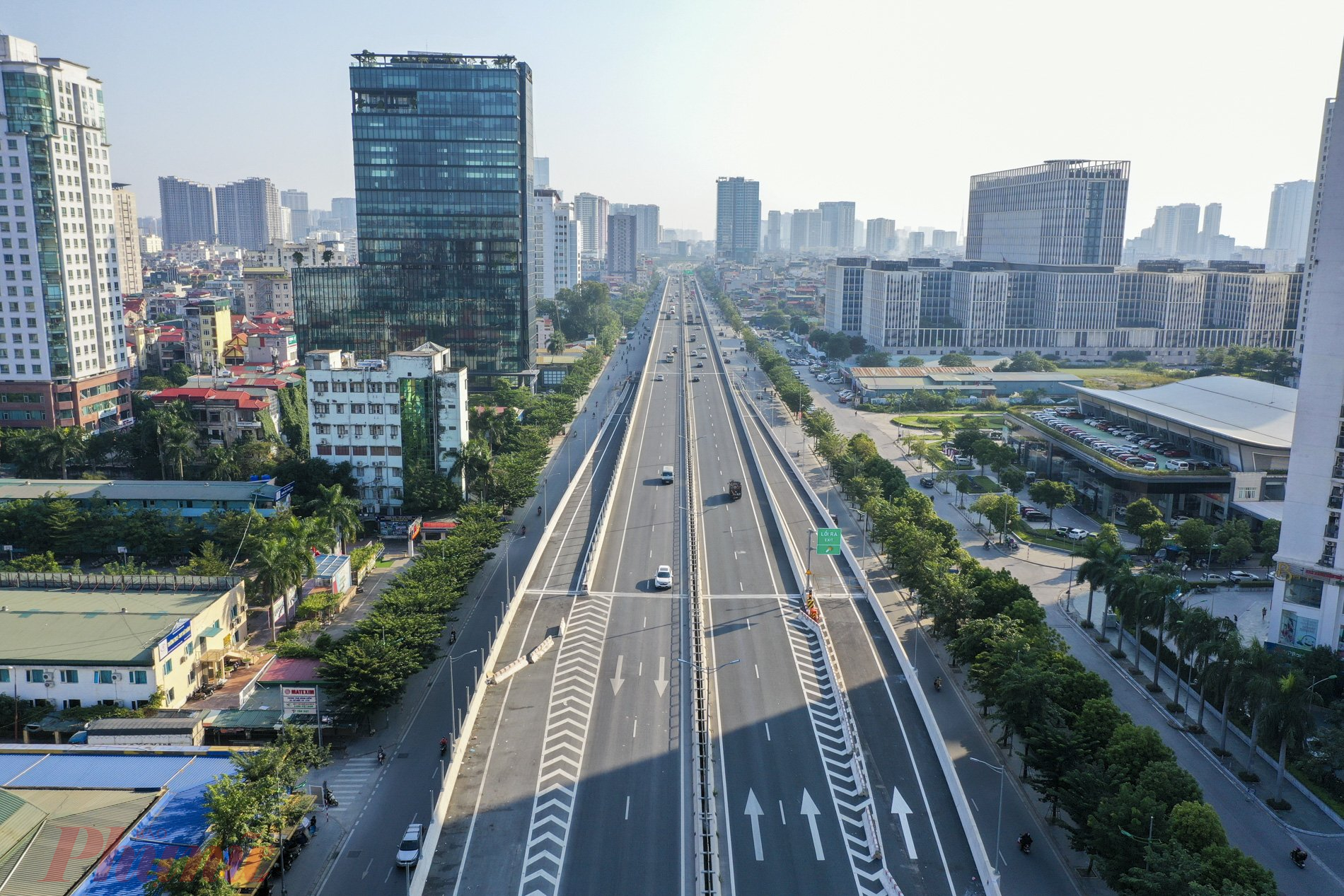 Over the past ten years, although it has been claimed as the "The Hen That Laid the Golden Egg" for the whole southern critical economic region, apart from the Binh Chuan - Tan Van section, the rest of the Ring Road 3 of Ho Chi Minh City is still "clogged" and can't start to invest.
In the latest session, the National Assembly officially "clicked the button" to approve the investment policy for the rest of the project. Specifically, Ring Road 3 of Ho Chi Minh City has a total length of 76.34km, passing through Ho Chi Minh City, Binh Duong, Dong Nai and Long An, with a total investment of more than 75,000 billion VND. This project is invested in the form of public investment, divided into 8 component projects, separated the land clearance and construction parts, and deployed independently according to each locality.
Immediately after being approved by the National Assembly, Deputy Prime Minister Le Van Thanh directed localities to prepare quickly to start the project as soon as possible. Ho Chi Minh City, assigned as the focal point for project implementation, has taken the first steps. According to Mr Tran Quang Lam, Director of Ho Chi Minh City Department of Transport, with the role assigned to be the focal agency to implement the Ring Road 3 project, Ho Chi Minh City together with Binh Duong, Dong Nai and Long An provinces have had many working sessions to implement this vital project soon.
Specifically, according to the latest plan, Ring Road 3 of Ho Chi Minh City will start construction in June 2023, six months earlier than the original plan. With the new program, the project will be completed in 2025, and the entire route will be implemented in 2026. It is expected that the Government will issue a resolution to implement the project in July. In August, it will carry out the approval procedures and hand over the land clearance plan. As planned, from October 2022 to the end of 2023, localities will commit to handing over at least 70% of the land to the project. Then, they will hand over the entire by March 2024.
Deputy Minister of Transport Le Dinh Tho once shared in Tuoi Tre newspaper about the current situation. We mainly use the existing road transport network to connect the Mekong Delta, the Southeast region, Tay Nguyen province and the South Central region to Ho Chi Minh City. We have to pass through the city centre, which worsens overcrowding and traffic congestion. Meanwhile, according to world experience, traffic planning is all in the direction of investment in ring roads. Then they will invest in radial highways connecting with the ring roads to form a complete traffic system that aims to diverge traffic flow for both urban and inter-regional traffic.
Therefore, projects like Ring Road 3 are critical and urgent. When this project is completed, it will create a supportive corridor for Ho Chi Minh city and its industry not only in the localities it passes through but also in the entire southern region and, at the same time, connect the areas. Earlier, in discussions of the National Assembly related to this project, many delegates also emphasized the great importance and significance. Specifically, Hoang Van Cuong, a member of the National Assembly Delegation, said that ring road projects not only expand urban development space and reduce traffic pressure for central cities but also create a connection of development space for the whole region. When this route is formed, the neighborhoods around the road will develop urban centres, commercial centres, and distribution centres. This is an excellent resource for the development process in the whole region.
Another delegate shared the same opinion that implementing the important belt project will bring enormous direct and indirect economic benefits, as thousands of hectares of land will become gold and silver land. There will be more urban areas, industrial parks, cultural and science centres, universities… In addition to transport infrastructure, the real estate market is considered a huge beneficiary when Ring Road 3 is developed. According to fact-finding, not only when the National Assembly approves it, the influence of Ring Road 3 on the real estate market could appear right from the moment the project just appeared.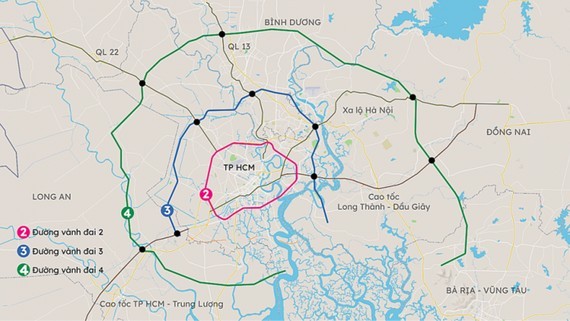 Mr Tuan Trung, a real estate investor, shared that Ring Road 3, with a length of nearly 100km, running through 4 leading localities of the southern key economic region, has a significant influence on the real estate industry of the region. This is also the area with the country's most rhythmic real estate market. In particular, in the context, that housing prices in Ho Chi Minh City have increased significantly, and the population is overcrowded, Ring Road 3 is like a "magical key" that can open up many new lands with the potential to form future satellite urban cities. "Ring Road 3 not only creates satellite cities, helps to increase the supply of houses that are scarce, but also a golden opportunity for visionary real estate investors," said Trung.
For example, in Ho Chi Minh City, Ring Road 3 passes through District 9 (Thu Duc City), Cu Chi District, Hoc Mon District, and Binh Chanh District. In addition to District 9, the price is high, and the land fund is exhausted. The remaining areas are all undeveloped real estate markets, their land funds are still abundant, and the price is still affordable. Surveying in Binh My commune (Cu Chi district), the price of land in projects such as Binh My Center, Binh My Garden, and Binh My Riverside... fluctuates from 18 to 20 million VND/m2. The ground here has an area of ​​80 - 100m2. Similarly, in Xuan Thoi Son, Xuan Thoi Dong, and Dong Thanh communes (Hoc Mon district), buyers will also have many choices of a ground project with a selling price of around 20 million VND/m2.
 In Dong Nai, Nhon Trach is the most notable market through which Ring Road 3 passes. In communes such as Long Tan, Phu Thanh, and Vinh Thanh…,  the selling price of land plots is expected to range from 20 to 30 million VND/m2. With some areas farther away, the price is from 10 to 15 million VND/m2. The type of agricultural land for gardening in Nhon Trach is also sought after by many people, with prices ranging from 1 to 3 million VND/m2.
 In Binh Duong, Ring Road 3 passes through Thuan An and Di An cities. These are two developed urban areas adjacent to Ho Chi Minh City, so the real estate market is fascinating. Except for some central areas where the price is too high, if you look hard to find, buyers still have many options with ground projects with an average price of 20-25 million VND/m2 in these two cities. In addition, this area has many options in the apartment segment with a series of projects that have been and are being built with prices below 2 billion VND/unit. Ring Road 3 passes through the Ben Luc district in Long An province. This area is where the land price is still relatively affordable compared to the above localities. Specifically, the popular price of many ground projects in Ben Luc is only 10 to 20 million VND/m2.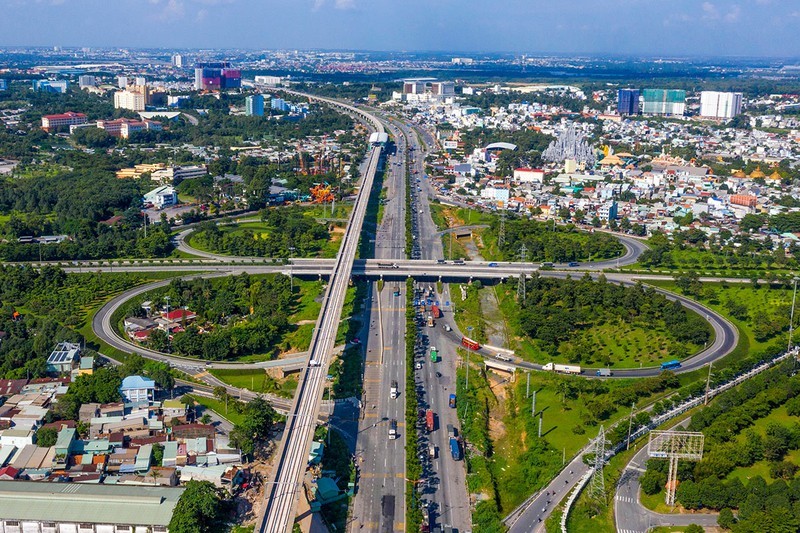 According to Dr Dinh The Hien, currently, investors are particularly interested in the market around Ho Chi Minh City, with a radius of 30km and located in dynamic areas. These areas include urbanized, industrialized areas and markets with synchronously connected transport infrastructure, which is the key economic region in the South. There, Ring Road 3 is like a magnet attracting investors to the area where the route passes such as Ben Luc, Can Giuoc (Long An), Cu Chi, Hoc Mon (Ho Chi Minh City), Nhon Trach (Dong Nai), and even further area such as Long Thanh or Chau Duc (Ba Ria - Vung Tau). There is no denying the significant influence on many areas of the Ring Road 3 project in Ho Chi Minh City. However, spreading across four localities with different development conditions makes scale and total investment capital enormous, posing many challenges.
The first is the work of land clearance, compensation and resettlement for the affected people, which is one of the most significant barriers causing many key infrastructure projects to stand still for many years. The Ring Road 3 project in Ho Chi Minh city detached the land clearance and construction project into two independent projects. At the same time, they were dividing tasks into small component projects and assigning them to localities to lead the implementation faster and more efficiently, which can save time and money.
However, many opinions are concerned that determining the unit price for compensation, support and resettlement of a locality that is implemented without building a standard price frame for the whole project will result in envious thinking about compensation prices, especially for bordering areas between localities. One issue of particular concern is the effective exploitation of the land fund along both sides of Ring Road 3: how to ensure publicity and not waste public land. A member of the National Assembly once affirmed that the money collected from land use, especially the difference in ground rent, will not be small. It may even exceed the cost of road construction, especially urban ring road projects.
Currently, localities have actively reviewed the land fund along the project. Thousands of hectares of "gold and silver land" are expected to be put up for public auction to create resources for project implementation. With the real estate market, Ring Road 3 will open up explosive opportunities for many new lands. However, it will also bring many consequences if there is no close supervision and management of localities. Traffic infrastructure information is always a lucrative "bait" that many individuals and organizations take advantage of to create gossip, which starts a virtual fever of land prices. As a result, the widespread "dividing split and selling ground" situation may disrupt the planning of many localities.
Dr Su Ngoc Khuong, Senior Director of Savills Vietnam, said that housing prices in recent years had been raised many times after each piece of information related to traffic infrastructure such as highways, airports, and ring roads,...Therefore, giving more information about infrastructure needs to be careful to avoid the virtual price increase of real estate. According to Mr Khuong, an infrastructure project from the time the idea is proposed to the time it is approved and construction took many years. Therefore, investment real estate based on future infrastructure is only for those with a long-term vision and who know how to choose currently located and fully legal products. Therefore, it is necessary to refrain from investing in the style of following rumours, crowds, and short speculation...So that you won't bury your capital for a long time and even lose all your money and gain nothing because of buying a project with uncertain legality.

VIPROPERTY CO.,LTD
Mua bán, Cho Thuê, Quản lý, Thiết kế & cung cấp nội thất căn hộ chung cư.
PURCHASING, LEASING, MANAGEMENT, FURNISHING APARTMENT
购买、出租、管理、设计与家具供应。
☎ Hotline: (+84) 986 888 100
✉️ info@viproperty.vn
-----------