The latest Property Management promotion
What problems do you encounter when renting a house?
Poor quality tenants, late in paying monthly rent.

Tenants are doing business and operating violating regulations of the Management Board and the Law.

Tenants must complete administrative documents with the authorities and the building management board.

Tenant requests to repair equipment in the apartment.

Tenants need to see the house regardless of the early evening time.

Tenants vandalize property in your apartment and walk away, breaking the contract.
Common problems when renting?
There is much vacant time due to being unable to fill new tenants in time.

Having to work with too many agents and sales.

Failing to update rental prices promptly and often being pressured.

Spend time and effort on supporting tenants when they ask for it.

In particular, the risk of not knowing the law and not being strict in the lease contract.

Difficult to deal with remote related jobs, in case the owner is abroad or is on business living in another province or country.
Understanding the above difficulties of Vietnamese landlords when managing rental apartments,
VIProperty, with seven years of experience in apartment management for foreign investors, has officially launched the Professional Property Management solution - Apartment rental management service. Viproperty helps you SAVE TIME, REDUCE RISK, and INCREASE PROFIT.
HOW DOES THE HOUSE MANAGEMENT ACTIVE?
Effective apartment exploitation will increase profitability annually and increase the value of apartments in the long term. Management activities need to be designed and operated to optimize investment costs compared to profits to ensure this core value. Here are some key activities in the apartment management process
Operation and maintenance of real estate include:
Real Estate Operation and Maintenance

Managing and taking care of tenants

Apartment rental marketing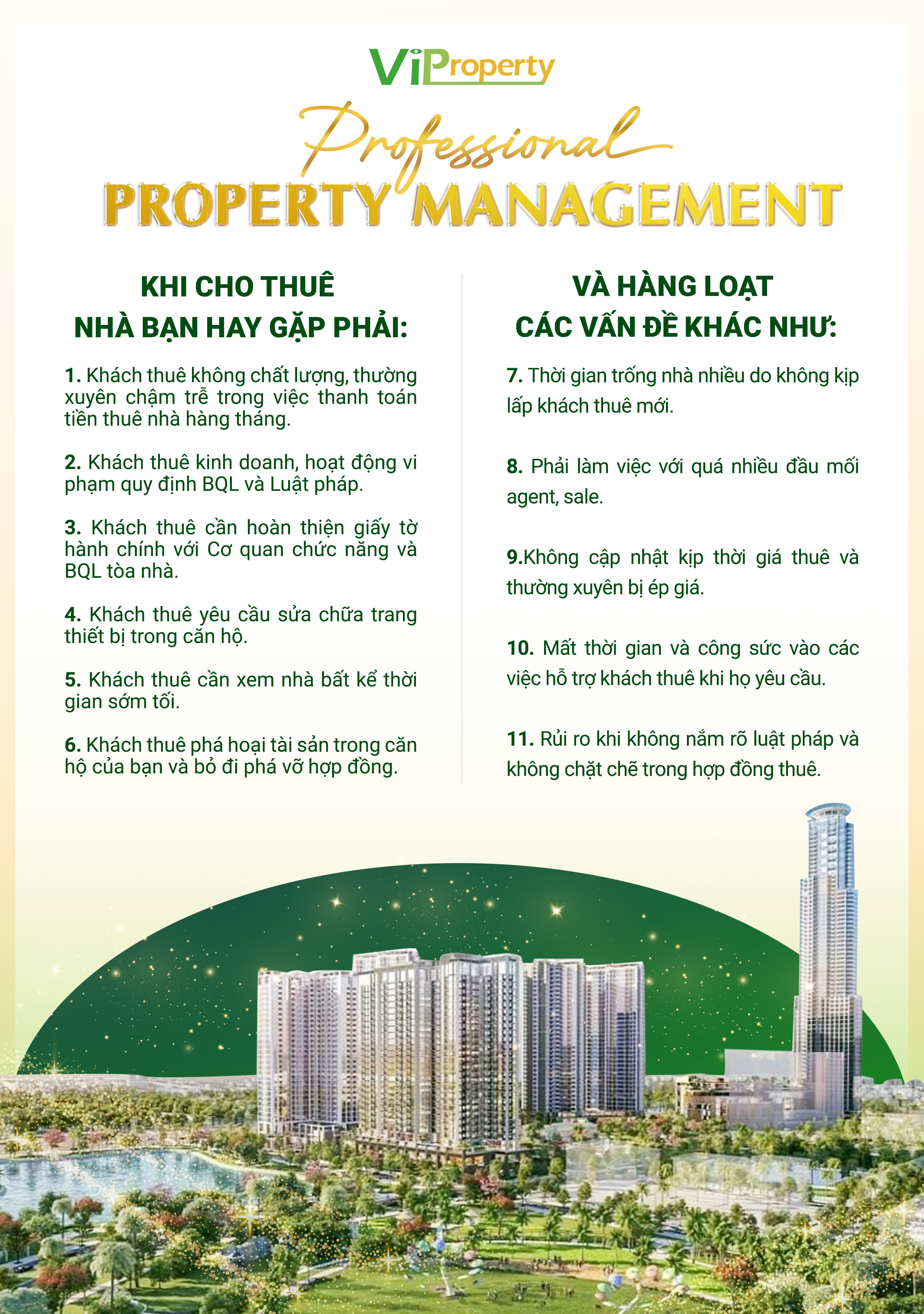 MANAGEMENT PROCESS OF APARTMENT FOR RENT AT VIPROPERTY:
Step 1: Receive information, survey reality
       + Quality rating
       + Evaluation of furniture and accompanying equipment
       + Evaluate internal and external utility services
       + Advice on some changes to increase the attractiveness of the apartment
Step 2: Communicating and introducing to target customers
Step 3: Implement the tenant selection process in 3 steps
Step 4: Consulting and leading customers to see the apartment
Step 5: Sign the rental contract
Step 6: Caring for and supporting customers during the rental period
PROMOTION PROGRAM FOR RENTAL MANAGEMENT:
Promotion program for apartment rental management services at Viproperty:
Basic apartment cleaning service before Tenant moves in

Essential apartment maintenance and repair service in the apartment provided by VIProperty technical service team

Apartment management service during the time of not renting

Apartment management services during the rental period include: Taking care of tenants, collecting rent and sending monthly reports.

Service to find tenants for the apartment in case the apartment is empty or the contract is about to expire with the 3-step tenant selection process.
SPECIAL WHEN CUSTOMERS SIGN PROFESSIONAL PROPERTY MANAGEMENT CONTRACTS WITH VIPROPERTY BEFORE MARCH 15/3 WILL BE OFFERED:
Free 4 Property Management services

Discount up to 50% service fee to find tenants for apartments

Free professional apartment photography and video recording package (Valued at 3 million VND)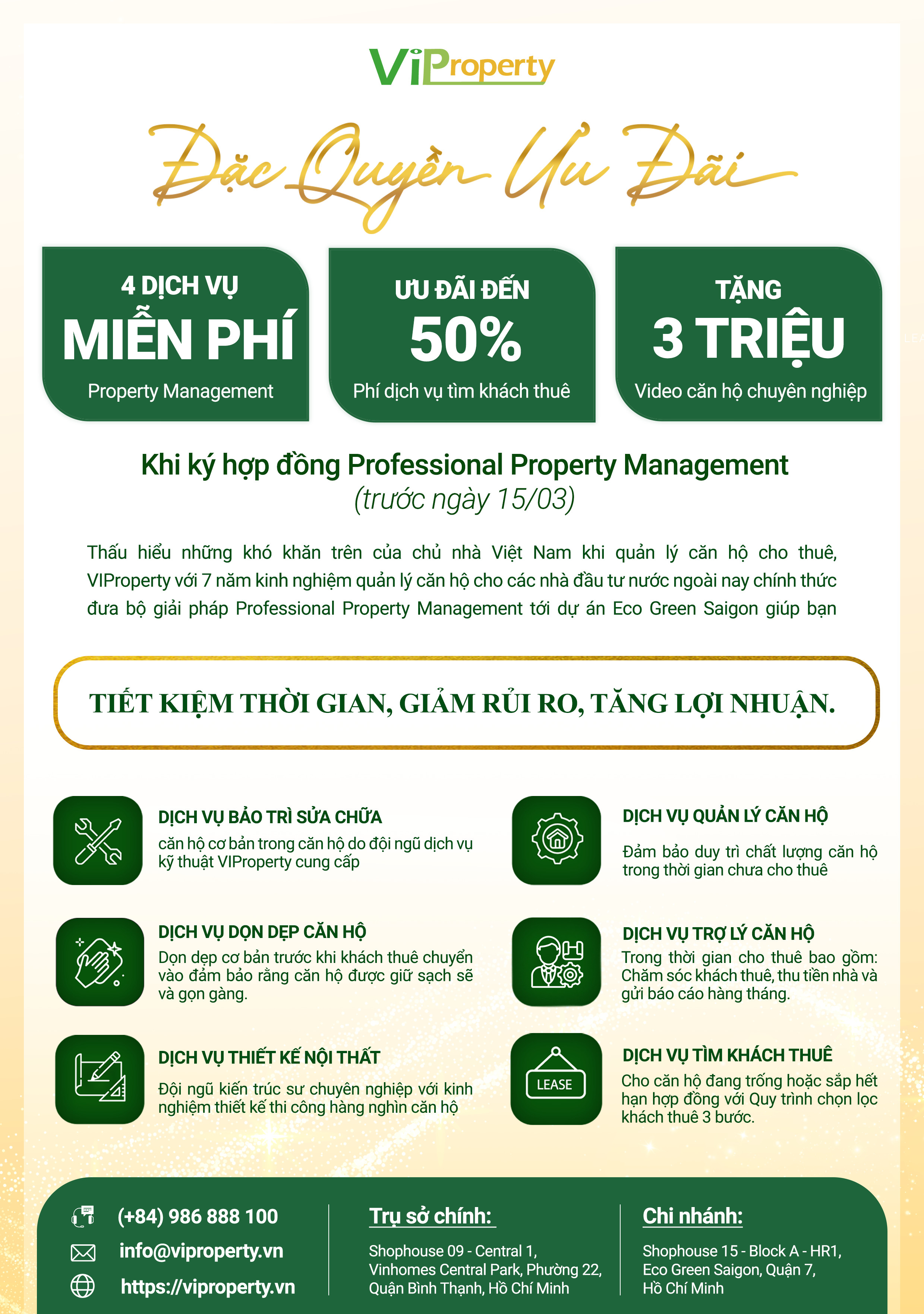 Currently, investors desperately need a professional real estate management unit to advise and help them manage the services provided to customers and ensure the correct room exploitation capacity. Good.
Viproperty manages and is legally responsible for the assets and human resources to operate and allows you to invest in Serviced Apartments when you do not have the experience and time to manage and use the system.

VIPROPERTY CO.,LTD
Mua bán, Cho Thuê, Quản lý, Thiết kế & cung cấp nội thất căn hộ chung cư.
PURCHASING, LEASING, MANAGEMENT, FURNISHING APARTMENT
购买、出租、管理、设计与家具供应。
☎ Hotline: (+84) 986 888 100
✉️ info@viproperty.vn
-----------