Shophouse Eco Green Saigon: a fantastic investment till the end of 2022
Project Overview:
Name of project: Eco Green Saigon
Investor: Xuan Mai Saigon
Location: 39B Nguyen Van Linh Street, Tan Thuan Tay Ward, District 7, Ho Chi Minh City.
Scale: Total area: 20,204 m2, 8 blocks, 35 floors high, including 2 basements, 2 floors shophouse. The total number of apartments is 4,000 units.
Types of Apartments: 

Apartment with 1 bedroom: 44m²

Apartment with 2 bedrooms: 52-81 m²

Apartment with 3 bedrooms: 86-95m²

Officetel: 25m2-35m²

Expected utility: Community room, children's playgrounds, swimming pools, a landscape park, convenience stores, gym, etc.
Legal: Long-term ownership for Vietnamese people, 50 years for foreigners
Project show house: 107 Nguyen Van Linh Street, Tan Thuan Tay Ward, District 7, Ho Chi Minh City.
Eco Green Saigon project is the most ecological apartment complex in District 7 located in front of Nguyen Van Linh, Tan Thuan Ward, District 7, Ho Chi Minh City. An excellent position connects Districts 2, 4, Phu My Hung, and 1 in approximately 5-10 minutes. Eco Green Saigon is invested in and developed many products, such as apartments and shophouses. The Shophouse is the product that experts believe is best worth investing in right now.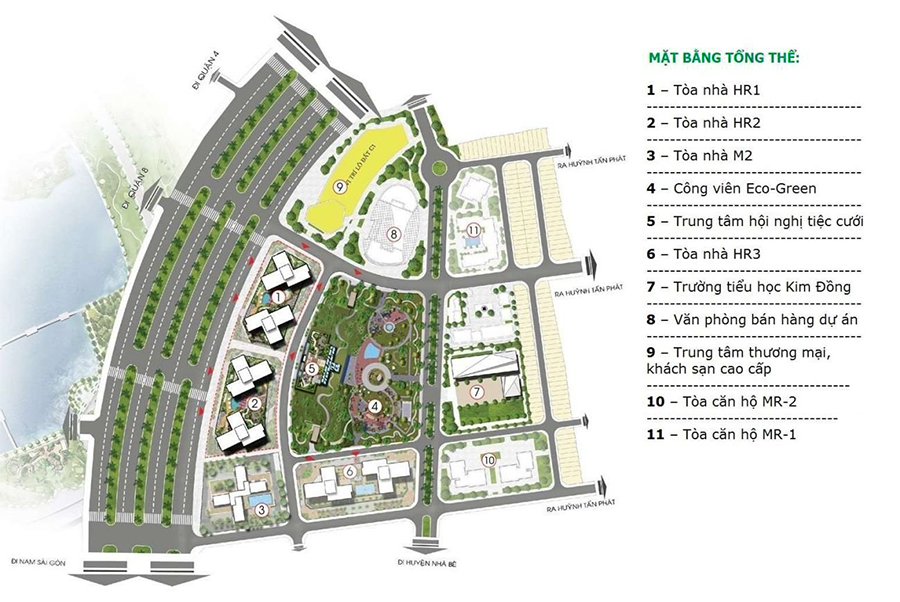 Estimating Future Growth:
In 2022, the price is only 110 - 120 million VND/m2

The transfer price after five years is forecast at VND 250 – 280 million/m2

The rental price forecast after 5 years is 100 – 150 million/month

Forecast profit margin >100%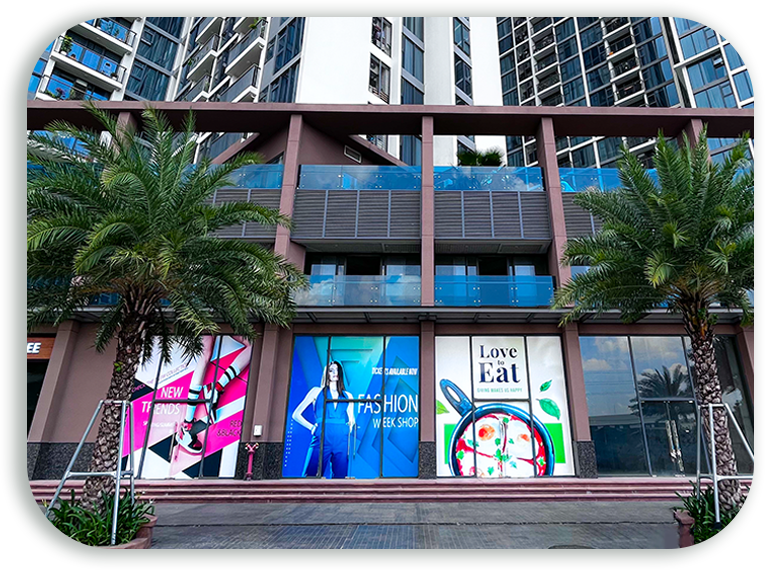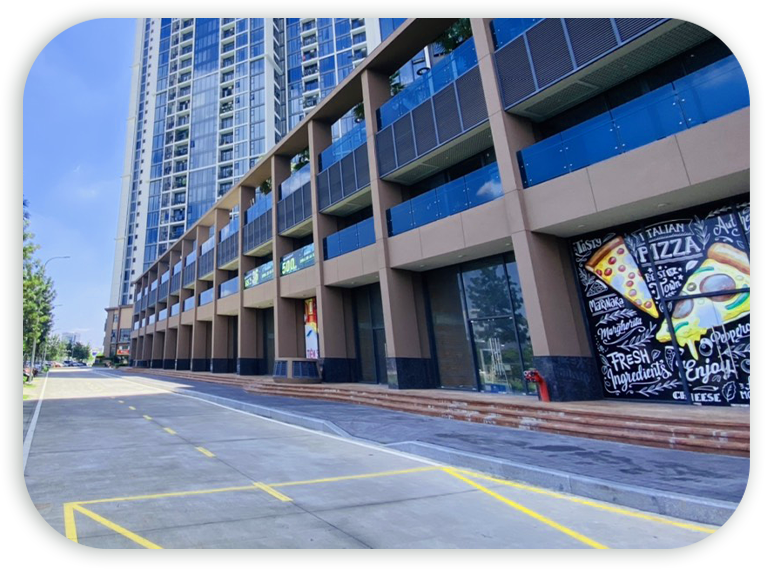 Eco Green Sai Gon Shophouse Design:
The Shophouse Eco Green apartment is designed with two floors, and the height of a duplex apartment is about 10m.
Number of apartments: 40 Shophouse Eco Green Saigon

29 Shophouses frontage Nguyen Van Linh 2 Block HR1 - HR24 Shophouses with internal park view 3.5ha

Area: 107m2 - 327m2

Type of Shophouse: Open floor 1st floor & 2nd floor (with mezzanine floor in the middle)

The ground floor is 5.5m high

The first floor is 4.5m high

Handover form: Finished outside - Rough inside

Ownership form: 50 years

Use form: Both business and residential
The Shophouse at Eco Green Saigon will have two separate floors. In addition, there will be an extra mezzanine level on the first floor, providing a vast and airy shophouse area with a height similar to three storeys. Because of this advantage, the Eco Green Saigon shophouse outperforms other shophouses in the same project sector. Each Shophouse has a suitable height of 10.5m. Some standard Shophouse Eco Green designs are shown below: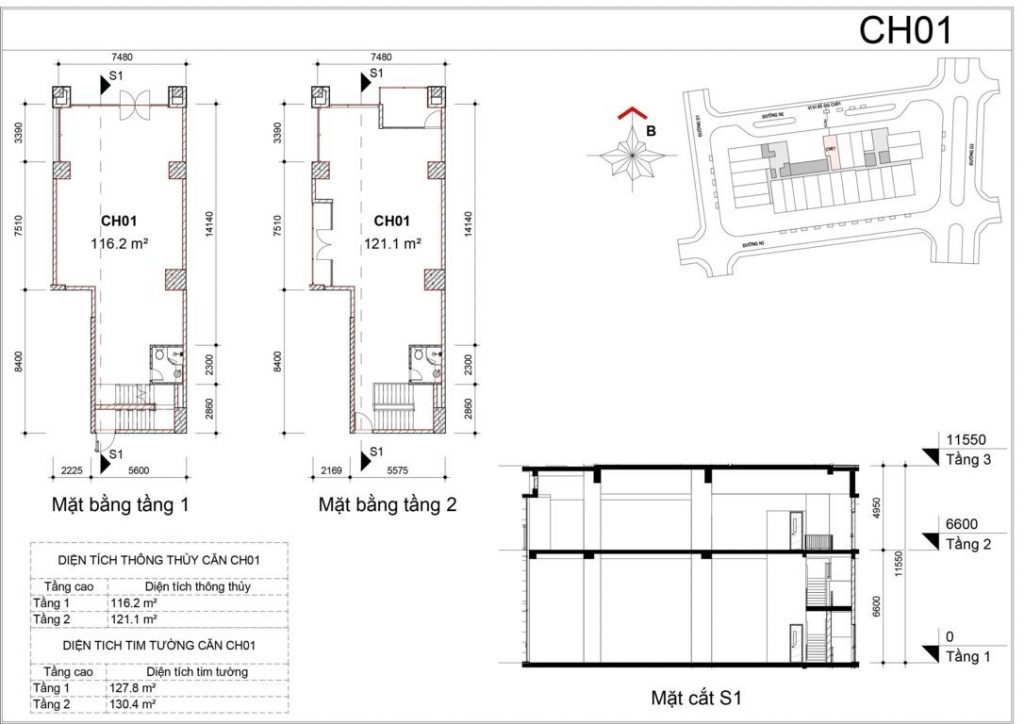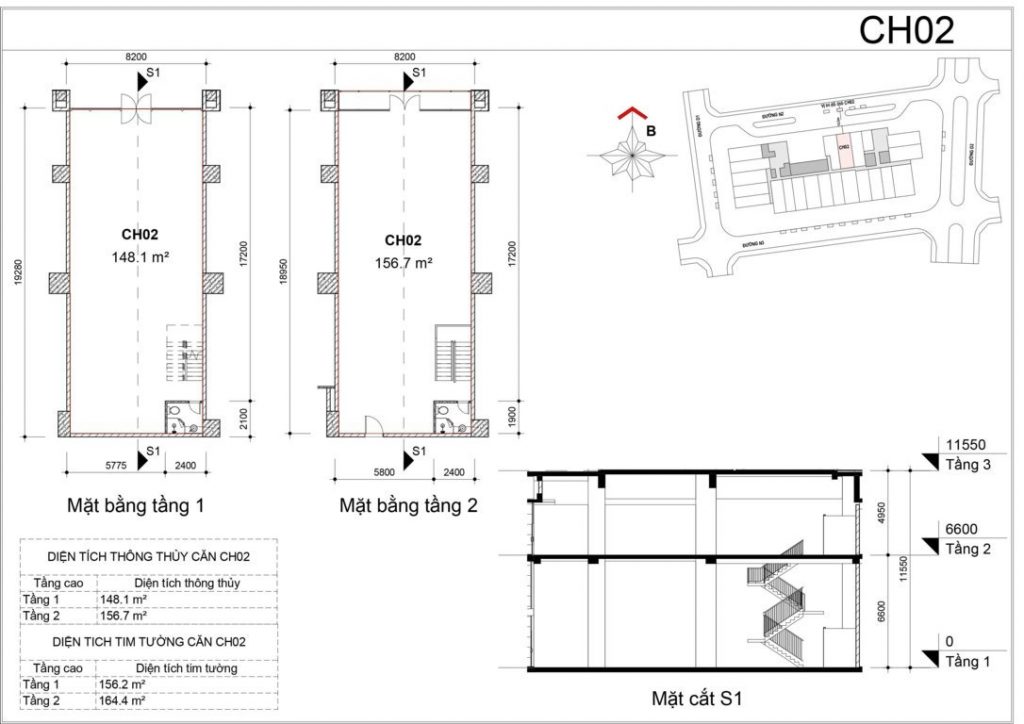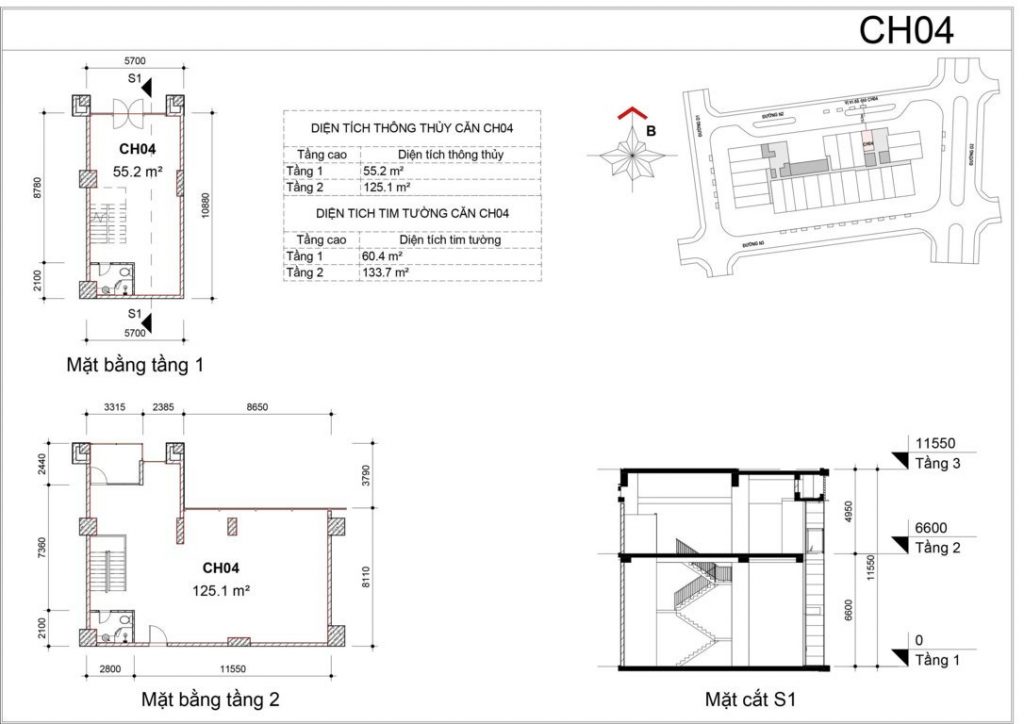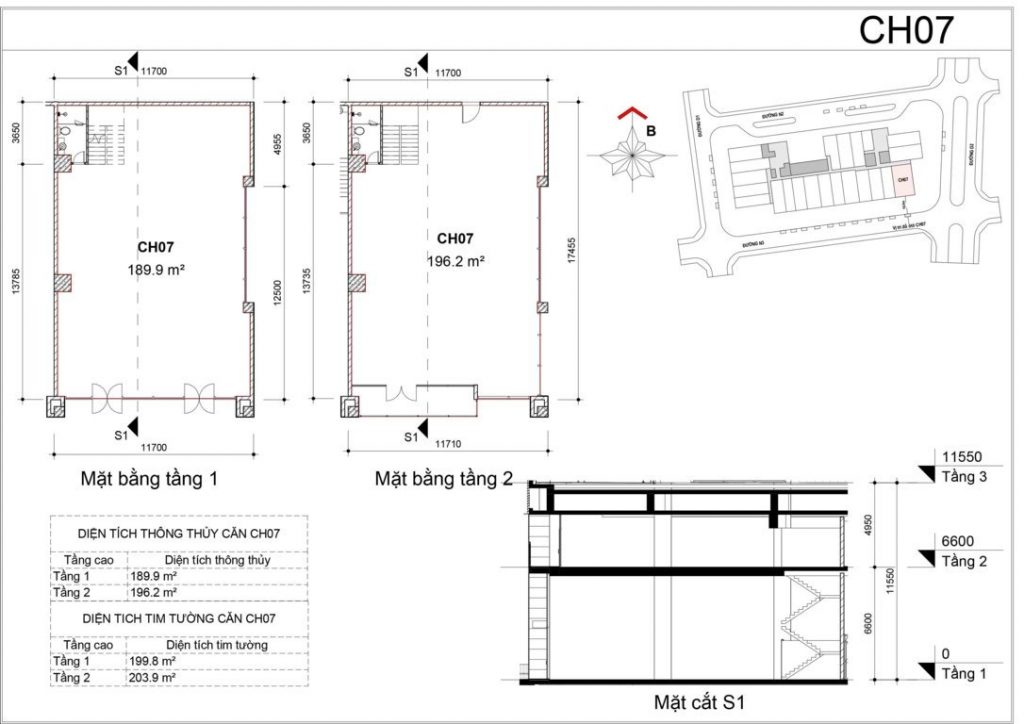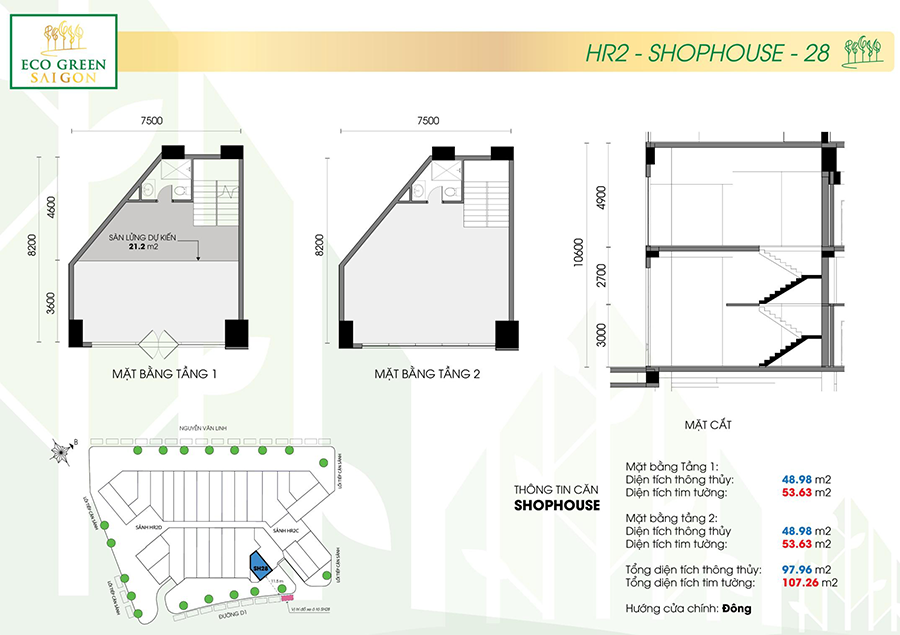 Investor Xuan Mai designs Shophouse Eco Green according to Singapore's high standards. The space is suitable for all types of businesses in the form of a double-storey shophouse with two separate aisles. Residents can use the upper floor as a bedroom and the lower floor for business, which is very convenient. Shophouse Eco Green is located in a densely populated complex with utilities to help maximize and increase business efficiency. In addition, the Eco Green Saigon project is also found in a prime location right on the arterial Nguyen Van Linh route connecting with central districts such as District 4, District 1, District 2 and Saigon South.
The number of shophouses in current apartments or residential areas is relatively small. Even only a few projects now have shophouses. Due to the limited quantity, the Shophouse has high liquidity. Investors can easily buy, resell, or invest in rentals for a quick profit.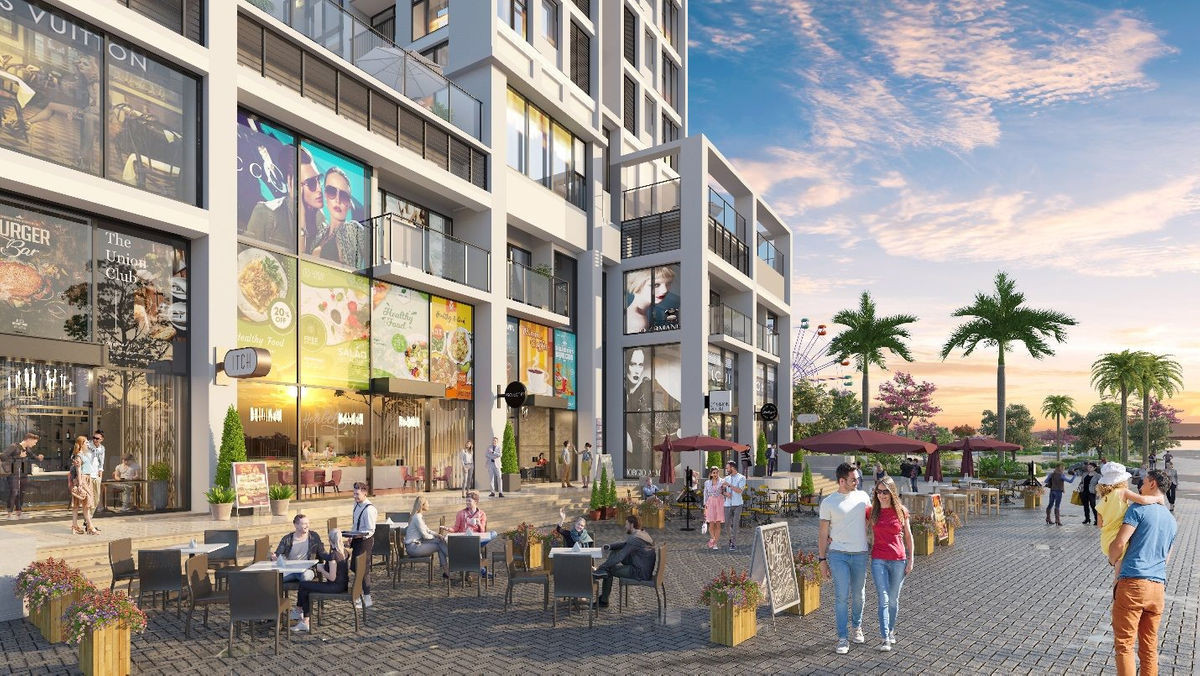 Huge savings till the end of 2022
Pay 30% – get a trader right away.

Business support for the first year – 5% discount on the selling price

Discount 18% shop value (If not using loan package)

Banks support 65% of loans with a 0% interest rate in the first 36 months.

Early payment of 95% gets an additional 8% discount on the shop value (within 30 days from the date of deposit)

Customers who buy a house with fast and full payment and enjoy the above discount will receive a set of high-class furniture worth 500 million.

A total discount of 31% only needs to pay 69% of the Shophouse value.

VIPROPERTY CO.,LTD
Mua bán, Cho Thuê, Quản lý, Thiết kế & cung cấp nội thất căn hộ chung cư.
PURCHASING, LEASING, MANAGEMENT, FURNISHING APARTMENT
购买、出租、管理、设计与家具供应。
☎ Hotline: (+84) 986 888 100
✉️ info@viproperty.vn
-----------