MT Eastmark City: Solutions To Ownership Apartment With Financial Below 42,250 Usd
At the MT Eastmark City project, the investor has announced a "Solution to own a home with a finance of less than 1 billion." Specifically, with only an initial capital of about 700 million VND (equivalent to 30% of the apartment value), customers The customer was able to receive the house with peace of mind, and the bank supported 70% of the remaining amount to borrow and disburse according to the project progress...
Project:

MT Eastmark City

Investor

: Điền Phúc Thành CONSTRUCTION BUSINESS COMPANY LIMITED

Developer:

Rio Land Real Estate Investment Joint Stock Company.

Location:

Trường Lưu street, Long Trường ward, Thủ Đức, TP.HCM city

Scale:

149.391,7m2 with 3 areas, 7 blocks 14-22 floors. Total 1.933 apartments

Kind of apartments: 

1 Bedroom (63,63 - 65,35m²); 

2 Bedroom (70,22 - 73,39m²); 

3 Bedroom (95,66 - 99,89m²); 

20 Duplex (134,98 - 195,5m²);

118 Shophouse 

Amenities expected:

Internal park, riverside park, swimming pool, relaxation pool, children's play area, Japanese garden, Sky garden, Volleyball court, Tennis court, Basketball court.

Legal: 

Long-term ownership for Vietnamese, 50 years for foreigners

Estimated time of transition:

Q1/2024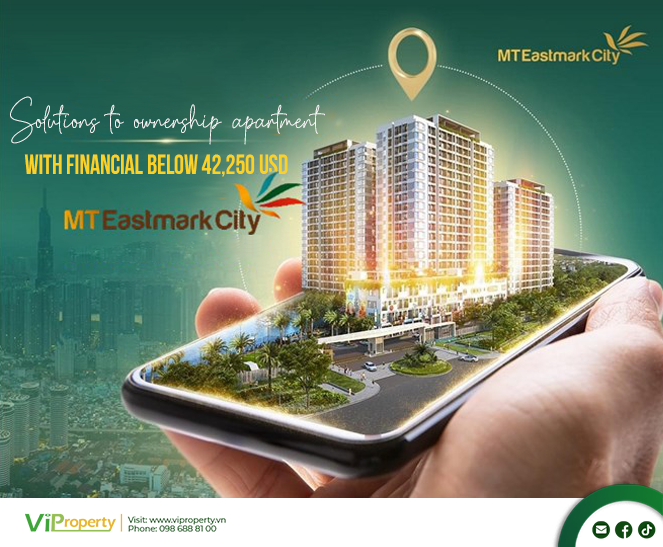 *MT EASTMARK CITY: SOLUTIONS TO OWNERSHIP APARTMENT WITH FINANCIAL BELOW 42,250 USD
Despite numerous changes brought on by the COVID-19 epidemic over the last two years, housing prices in Ho Chi Minh City have continued to rise. The average price per square meter ranges from 55 to over 100 million VND (4.230 USD), with some luxury developments costing more than 200 million VND (8.450 USD)/m2.
Not to add that many households must postpone their decision to purchase a home due to the difficult access to loans. That makes it difficult for those who have borrowed and those who intend to buy a house. Customer "entanglements" with cash flow are a regular occurrence, especially in light of the "double" squeeze on bank credit flows that the real estate industry is experiencing and the ongoing supply shortfall. The "double" squeeze on bank credit flows that the real estate industry is experiencing and the constant supply shortfall.

Suppose the average price of apartments in Ho Chi Minh City is about 60 million VND (2.500 USD) /m2. When buying that apartment, you have to spend 3.3 billion (139.400 USD) with an initial capital of at least 1 billion (42.250 USD), equivalent to 30% of the value of the apartment, and not to mention the pressure to pay principal and interest on bank loans each period. Most banks only support loan interest for the first year, then float. Very few projects accept long-term payment support for clients. If choosing a lower price in the range of 35-50 million VND (1.500-2.110 USD)/m2, investors must determine the suburban area or neighboring provinces such as Di An, Thuan An, Long An, and Nhon Trach.
However, the recent appearance of unexpected and unprecedented financial support programs in the real estate market has also partially helped to unwind investor bottlenecks. That is "SOLUTIONS TO OWNERSHIP APARTMENT WITH FINANCIAL BELOW 42,250 USD" of MT Eastmark City.
Project's strategic position:

 
With a scale of over 2,000 units (apartments, officetels, and shophouses) situated in a prestigious neighborhood with a land area of more than 20 hectares, it inherits the crucial infrastructure development of the city and a high-class modern regional utility system. MT Eastmark City aspires to be a symbol and a new quality of life for Thủ Đức city - An important knowledge economy centre in Ho Chi Minh City.
The location of the MT Eastmark City project is adjacent to the HCM City - Long Thanh - Dau Giay high line and Ring Road 3, passing through 4 provinces: Ho Chi Minh City, Binh Duong, Dong Nai and Long An. Residents can easily connect to the 1-2 high-tech zone from the new Eastern Bus Station project location. Furthermore, MT Eastmark City is close to numerous metropolitan districts and high-tech centres in Thu Duc City, such as Vinhomes Grand Park urban area, Dong Tang Long urban area, and Ho Chi Minh City High-Tech Park 2 (project). Besides, there are a variety of external facilities, such as a series of quality schools at all levels. The project is only 900m from Long Truong Market, 4km from Rach Chiec Golf Course, and 6km from Suoi Tien Tourist Area.
The "Standard Expert" Only at MT Eastmark City:
The high-class community aims to live in the modern city while ensuring privacy and security and enjoying all utilities. Constructing high-end, "professional quality" apartments in the heart of Thu Duc, MT Eastmark City offers the privileged experiences of a typical lifestyle to the affluent neighbourhood.
1. Advantage of separate administration and operation: from a seasoned and skilled unit with a 24-hour security system, ensuring complete safety for families and children.
2. Utility privileges: Only MT Eastmark City residents can access first-class facilities.
3. Privilege of private space and personalized experience: from clever apartment design and keeping up with contemporary technology developments, offering optimal privacy for each family.
4. Green living privilege: MT Eastmark City is entirely green with a system of swimming pools, tropical parks, and surrounding rivers,... giving residents a rare fresh living environment in the city.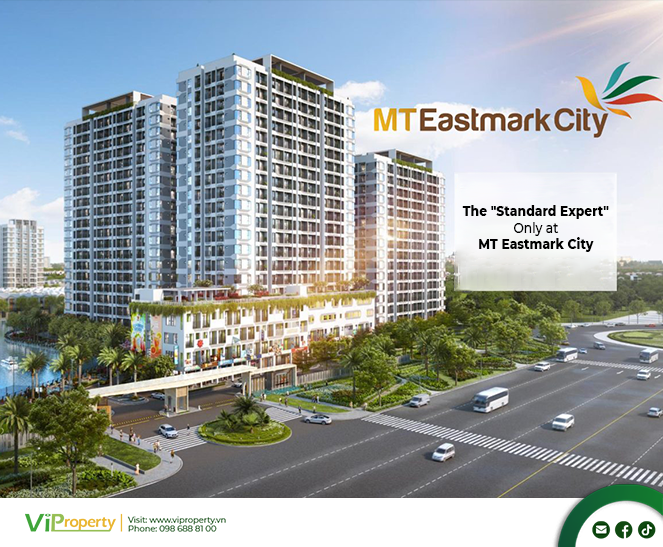 *The "Standard Expert" Only at MT Eastmark City
The best price in the area:
MT Eastmark City is currently a rare project deployed in the Thu Duc city center to keep the almost "unavailability" price in this area, only 39 million VND (1.650 USD) / m2 for a luxury apartment. The solution package is similar in that clients can safely acquire the home with only an initial capital of roughly 700 million VND (29.580 USD) (equal to 30% of the apartment value), with the bank lending them money for the remaining 70% and payout by the status of the project. The advantage is that the investor will support a 0% interest rate and a grace period of up to 30 months.
For an apartment between 60 and 183 square meters in size, it is predicted that the interest payment over the course of 30 months will range between 300 million VND (12.675 USD) and 1 billion VND (42.253 USD). In other words, the investor will "burden" the total cost to relieve the clients of some financial pressure. In contrast to a typical home loan, consumers who pay on time frequently have to pay a sizable total of 25% of the value—at the time of handover. However, clients should not worry about payment even after obtaining the keys and moving in because they are still in the period of interest rate support under MT Eastmark City's policy.
The latest price list of Eastmark City MT in September 2022 ranges from 36-40 million/m² specifically as follows:
1 bedroom apartment (59.55 – 65.35 m2): Price 2.1 billion to 2.3 billion VND (88.700 - 97.150 USD)

2-bedroom apartment (65.95 – 73.39 m2): Price 2.3 billion to 2.6 billion VND (97.150 - 109.820 USD)

3-bedroom apartment (88.88 – 99.89 m2): Price 3.1 billion to 3.5 billion VND (130.940 - 147.835 USD)

Duplex apartment (126.16 – 195.50 m2): Price 4.5 billion to 7 billion VND (190.074 - 295.670 USD)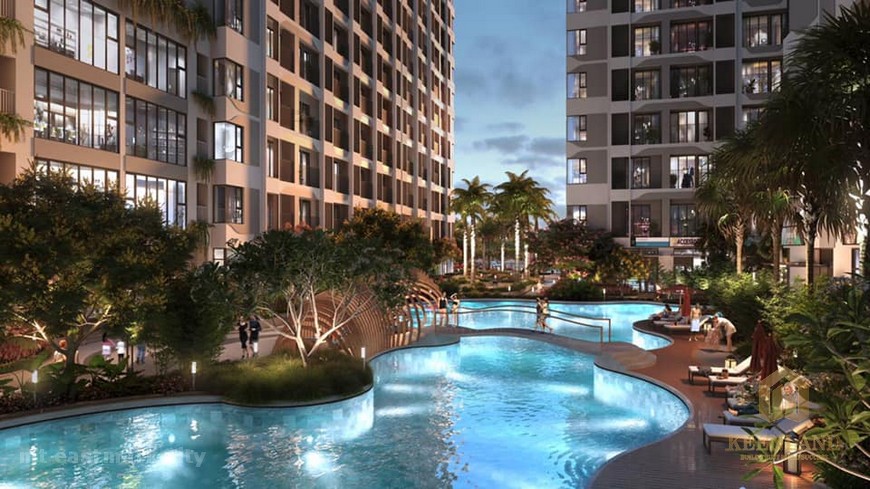 Construction projects in August 2022 include:
Drilled piers: has been completed.

Block B excavated and poured concrete foundation 20%

Block C excavated and poured concrete foundation 5%

Septic tank 3 is in the process of digging the ground



MT Eastmark City: Complex project includes apartments, shophouses, and offices with more than 2000 diversified and multi-functional products. It is a home ownership solution with finance of 1 billion VND (42,250 USD) for investors in times of high inflation and scarcity of supply in the real estate market of Ho Chi Minh City. Owning a location right in front of Ring Road 03, right in the heart of Thu Duc technology and innovation capital, gives MT Eastmark City unlimited profit potential. At the time of receiving the house in the fourth quarter of 2025, the value of apartments owned by customers is likely to increase rapidly by 30-40% according to the development speed and complete transport infrastructure of Thu Duc City. MT Eastmark City is an opportunity to catch the "falling point" of the market, whether customers buy-in, transfer, or rent, ensuring sustainable profits.

VIPROPERTY CO.,LTD
Mua bán, Cho Thuê, Quản lý, Thiết kế & cung cấp nội thất căn hộ chung cư.
PURCHASING, LEASING, MANAGEMENT, FURNISHING APARTMENT
购买、出租、管理、设计与家具供应。
☎ Hotline: (+84) 986 888 100
✉️ info@viproperty.vn
-----------