First metro line in Vietnam's capital city will be put into official operation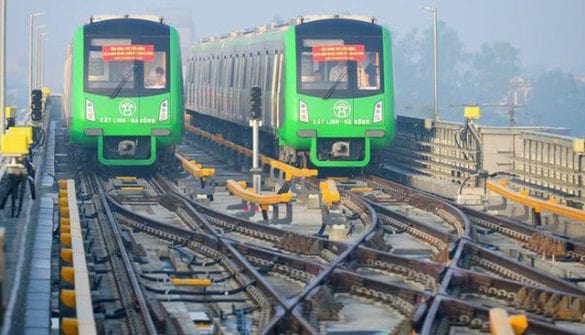 Inspectors looked into the actual operation on the whole route, the use and distribution of fares, the management of a number of function rooms at some stations, platforms, reception halls, ticket gates, control rooms, equipment rooms, the depot or technical and service station, and the digital command control.
All nine members of the State Inspection Council agreed at the results of the conditional pre-acceptance test conducted by the project's investor — the Ministry of Transport.
The absolute approval is an important basis for the Ministry of Transport, the People's Committee of Hanoi, and the Chinese general contractor to complete the project handover procedure for commercial operation, according to Tien Phong (Vanguard) newspaper.
Tien Phong newspaper reported that the Engineering, Procurement and Construction (EPC) general contractor is mobilizing personnel from China to Vietnam to carry out the project's handover, warranty, and procurement of spare materials — some of the final steps before the project can come on stream.
The official commercial operation date of the route is still pending a decision by the Ministry of Transport and the People's Committee of Hanoi.
The Cat Linh – Ha Dong urban railway, costing a total of US$886 million after adjustments, runs from Cat Linh Station in downtown Dong Da District to Yen Nghia Station in south-western Ha Dong District.
It takes some 20 minutes to travel the distance of 13 kilometers of the entire route.
It is projected to be the first metro line of its kind to be put into operation in Vietnam.
Work on the railway began in October 2011 and was initially scheduled for completion in 2013.
However, several hurdles, including problems in China's official development assistance (ODA) loan disbursement that were only resolved in December 2017, have stalled it for years
Keeping our clients, employees, and partners informed is one of our top priorities.
---------------------------------------------------------------------
VIPROPERTY CO.,LTD
Mua bán, Cho Thuê, Quản lý, Thiết kế & cung cấp nội thất căn hộ chung cư.
PURCHASING, LEASING, MANAGEMENT, FURNISHING APARTMENT
购买、出租、管理、设计与家具供应。
Hotline: (+84) 986 888 100
info@viproperty.vn