Factor contributes to price increase of Eco Green Saigon Project
The location of the project is one of the factors that many customers and investors are interested in in the process of learning about the Eco Green Saigon project. Eco Green Saigon project is located in front of Nguyen Van Linh street, in Tan Thuan ward, District 7, Ho Chi Minh City. With its location right in front of this arterial road, from the project residents can easily move to the central area of ​​District 1 and other districts in the city such as: District 2, District 4, District 8.
A closer look at the apartment real estate market in the South of Ho Chi Minh City
When it comes to the real estate market in the South of Ho Chi Minh City in general and District 7 in particular, people will immediately think of a vibrant apartment real estate of projects, residential areas, and complexes is designed and planned in a beautiful, modern, synchronous and professional manner, which the pioneer Phu My Hung has developed for 20 years.
Despite the increase in prices, real estate in the South is still chosen by many customers when it has a fairly complete transportation system, convenient connections to the city center as well as other areas. The utility system of the South area is also extremely rich and diverse, from high-class commercial centers, international hospitals, international schools to large-scale amusement parks... Especially, the premises of apartment real estate in the South are still attractive compared to other newly developed areas.
From the beginning of 2022, many businesses have begun to launch products to the South apartment real estate market to welcome the wave of infrastructure when this area is about to receive a series of "terrible" projects such as Ben Luc - Long Thanh highway, Thu Thiem 3 bridge, Thu Thiem 4 bridge, Kenh Te 2 bridge, Can Gio bridge, Ring 2, Ring 3, etc.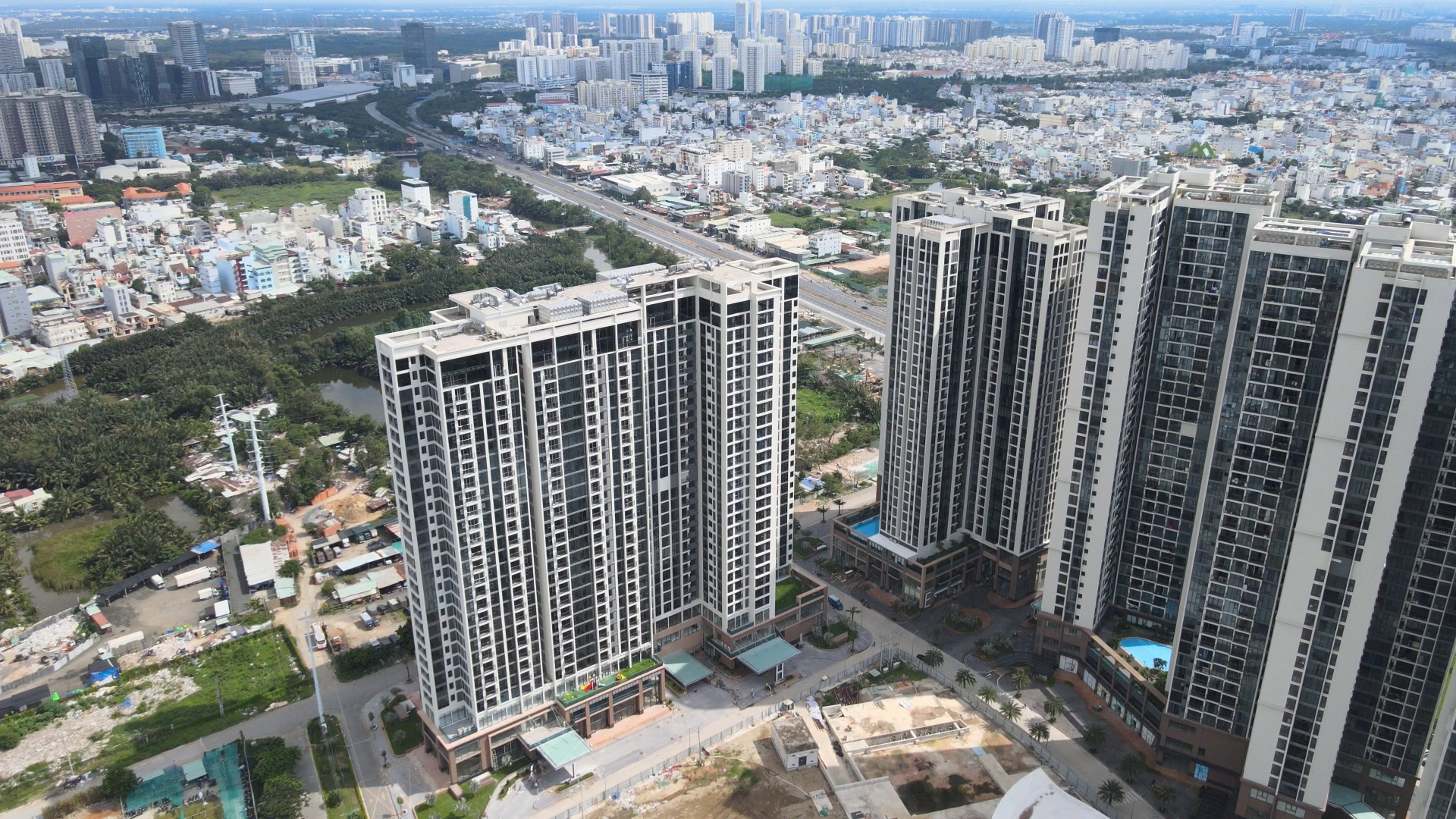 As land funds in the downtown districts are increasingly scarce, investors are forced to seek and develop on new platforms. In the eyes of strategic investors, the apartment real estate market of South of Ho Chi Minh City meets all the elements of a "promised land": the land fund is still relatively large, the infrastructure is invested on a large scale, ideal ecological conditions with many green patches and a dense system of canals, etc.
There are many apartment projects interspersed in residential areas, the living environment is not too separate, the daily living costs are much more economical, which is also a factor that helps the apartment real estate market in the South of Ho Chi Minh City become a destination of many investors.
The modern and dynamic "one step down the street" lifestyle is realized by the investor through the arrangement of a chain of utilities from food, entertainment, relaxation, shopping to shorten travel time, prolong the enjoyment time for residents in the southern region.
The annual growth rate of apartments in the South of Ho Chi Minh City continuously sets new price levels, ranging from 10 to 30%. Accordingly, projects of the South area with river view are a great advantage at this time, the investment value will be high over time.
Some infrastruture update near Eco Green Saigon Project in the near future
Take a look at elements of the infrastructure of real estate in South of Saigon, where Eco Green Saigon is located:
+ Nguyen Van Linh - Nguyen Huu Tho intersection: deploying phase 1 with 3-storey underground tunnel. The total investment cost is up to 830 billion VND.
+ Nguyen Khoai Bridge: This traffic project was started before the Lunar New Year 2020. It can be said that this is an important traffic infrastructure project connecting the center of District 4 with District 7. When completed, Nguyen Bridge Khoai will solve traffic problems and bottlenecks when residents of District 7 move to the center.
+ Phuoc Khanh Bridge: The bridge is located on Long Thanh - Ben Luc Expressway. It is expected that when completed, it will connect the South of Saigon area with Nhon Trach Dong Nai.
+ Thu Thiem Bridge 4: The bridge connects District 7 through Thu Thiem District 2. Currently, the city has approved the construction planning for this bridge. This is a very important delivery infrastructure project, not only helping to limit traffic jams but also affecting the development of the entire South real estate market.
+ North - South axis: The traffic item extending from National Highway 22 to Hiep Phuoc, Nha Be has been upgraded to 6 lanes.
+ Metro Line 4: With an investment of up to 97,000 billion VND, this is the longest Metro line in the city, connecting from Thanh Xuan (District 12) to Hiep Phuoc Urban Area (District 7). Metro 4 is the main development driver of South of Saigon in the future.
+ Can Gio Bridge: connecting 2 districts of Can Gio and Nha Be (where Vingroup is present with large resort Vinpearl Can Gio).
ViProperty is a professional service provider for foreign investors interested in the real estate sector in Vietnam. In addition, Viproperty is also a partner with Eco Green Saigon, so it is convenient for customers to choose services from ViProperty. ViProperty always has a professional team to support and advice on all services: Buying, selling, renting, furniture, management.

VIPROPERTY CO.,LTD
Mua bán, Cho Thuê, Quản lý, Thiết kế & cung cấp nội thất căn hộ chung cư.
PURCHASING, LEASING, MANAGEMENT, FURNISHING APARTMENT
购买、出租、管理、设计与家具供应。
☎ Hotline: (+84) 986 888 100
✉️ info@viproperty.vn
-----------