Enjoy The Life At Urban Green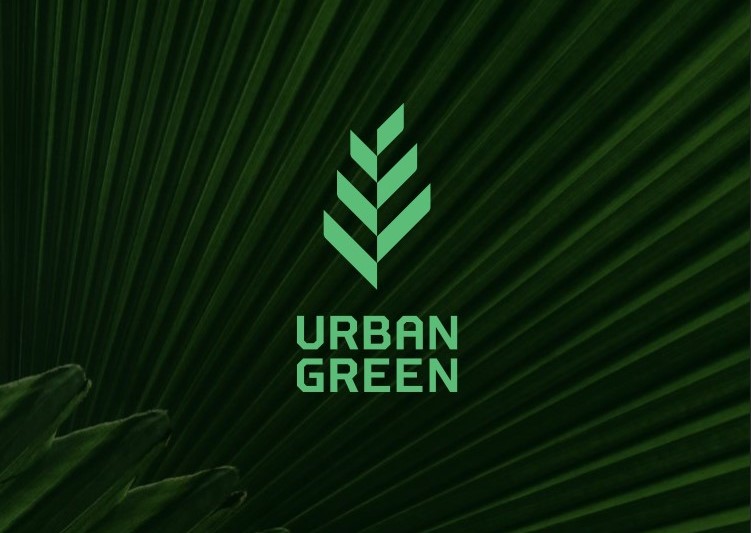 Project name: Urban Green
Investor: Kusto Home
Location: No.6, Quarter 6, Hiep Binh Phuoc Ward, Thu Duc city, Ho Chi Minh City, Vietnam
Scale: Total area: 20,204 m2, 2 towers (The Bliss, The Aster) 23 floors, 735 apartments, 39 shophouses
Type of apartments: 

1 Bedroom: 50-55m²

2 Bedrooms: 65-90 m²

3 Bedrooms: 102-118m²

4 Bedrooms: 174-202m²

Amenities expected: Community room, kindergarten, Landscape Park, Convenience Store, BBQ grill, Zen garden, Outdoor Jacuzzi, spa and sports complex zon 
Legal: Long-term ownership for Vietnamese, 50 years for a foreigner
Handing over estimated time: 2024
Showhouse: Diamond island, Thoi Dai bridge, Binh Trung Tay Ward, District 2, Thu Duc city, Ho Chi Minh City.
Urban Green is a true home dedicated to every family member; its facilities are suitable for any generation in the family. Urban Green is the first family-focused apartment project in the future innovation and technology city- Thu Duc City. Urban Green redefines the modern urban culture of the town and pioneers a new way of life through its healthy living areas and vibrant shophouses. The project gives people time back in their life by being designed and tailored for families and young people who want to live in harmony with the city while also enjoying a healthy and natural environment.
Based on the idea of ​​establishing a new urban area, combining the change of the city with a new standard of strength development, the architectural design inspired by the Modern and Bauhaus styles. With thorough comprehension of inhabitants' demands and clever organization in the facade and master plan, Urban Green design mimics the rhythm of nature, assures light and ventilation while relieving the busy urban rhythm, and offers a variety of chances for fostering relationships among family, friends, and the community. Urban Green is the next chapter in the Kusto Home story and the first of its kind at an upcoming location set to transform city life, a life that specifically designed for modern urban people.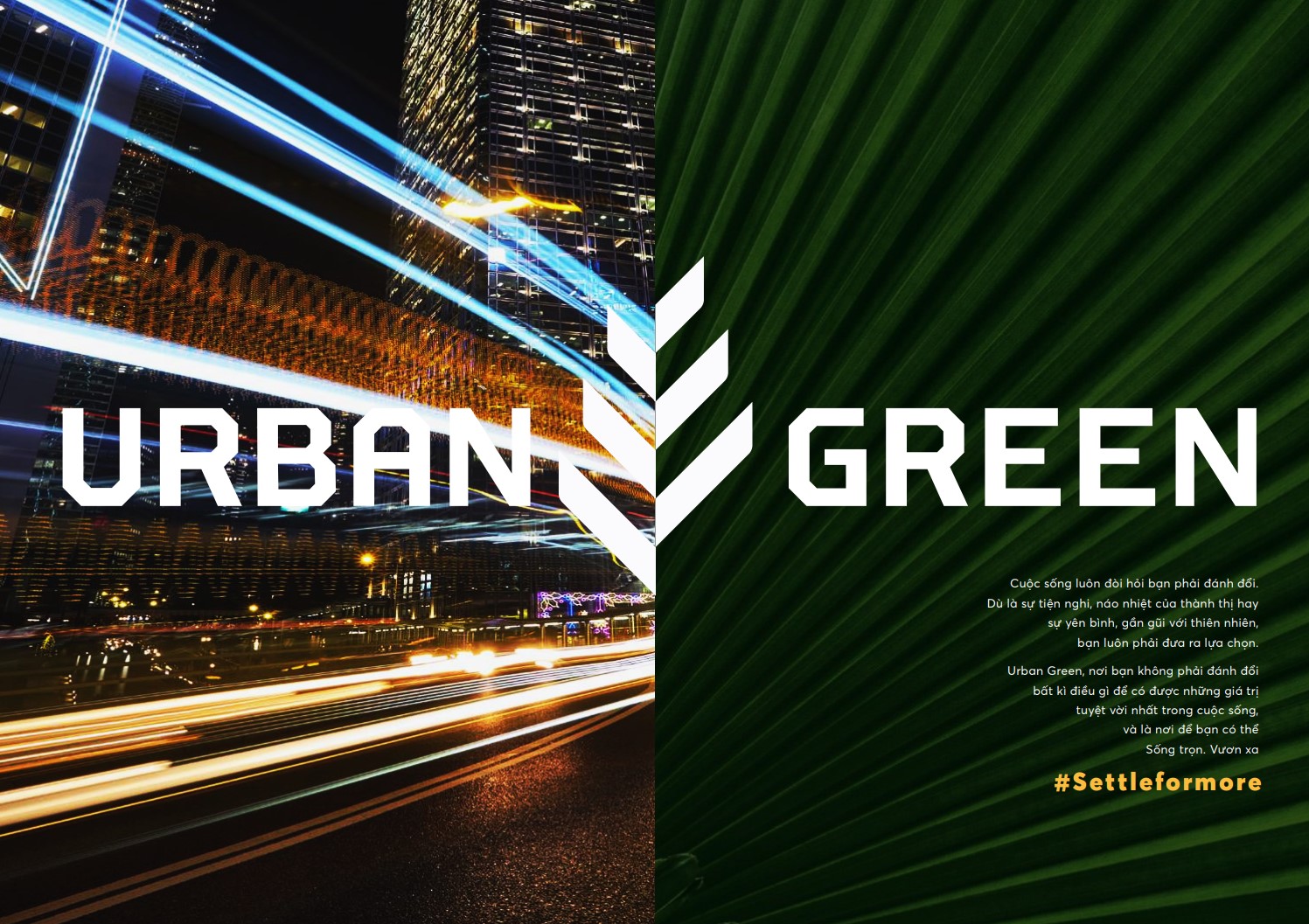 Urban Green is located in a prime area of Thu Duc city. Thu Duc is a potential area for developing demand and value for residential real estate projects.
• Location: No.6 St, Hiep Binh Phuoc Ward, Thu Duc city.
• Just 5 minutes to get to 2 Metro stations of the 3B line.
• 10 minutes to get to District 1.
Directly connected to National Highway 13, a dynamic traffic route connects Thu Duc City to Ho Chi Minh City and Binh Duong New City. This route plans to widen the road by 60m with a total investment of nearly 10 trillion VND, which has committed to deploy and complete before 2025. 
Numerous external facilities are already in place to meet people's daily needs.
+ Gigamall Hypermarket, Bình Triệu Coopmart , Emart supermarket, Vincom Plaza Go Vap, Big C
+ Law University, Van Lang University, Nguyen Khuyen High School, and more other schools from primary to high school
+ Hanh Phuc International Hospital, Van Phuc Hospital, Anh Minh general hospital, 175 Military Central Hospital
HOTSPOTS FOR FUTURE INVESTMENT
High demand, limited supply, an average price increase of 20% - 25% per year
The ratio of investment and settlement needs: 50:50
Within 3-4 years, 54% of HCMC's new supply will be in Thu Duc city. Market share climbed across all categories, particularly in mid- and high-end apartment categories. And up to now, Urban Green has become one of the abundant supply sources in Thu Duc City.
Inspired by the vibrant urban life of Saigon and Thu Duc City, the architects of Level Architect have incorporated the Bauhaus style into the plan and architectural design ideas of Urban Green. Bauhaus style combines art and function, aesthetics and practical aspects. This style has created a modern school and functionalism ideas in applied art and architectural design. 
The balance factor shows throughout the master plan in the exterior architecture and apartment space layout details. Urban Green is planned with two towers combined into an L shape - maximizing the interface with natural light and ventilation for the entire project, maximizing the view from each apartment towards the surrounding (to Sai Gon river, Rach Dua or Binh Duong new city). The tower's exterior color palette and design elements represent the vibrant urban rhythm, countered by the green spaces that run alongside the buildings and throughout the public spaces. Urban Green's green space is a complex of gardens from a central park, green landscape strip on pedestrian walkways, and shopping streets to private gardens for residents, a barbecue garden, a meditation garden, and an upper garden. Especially upper floors and roof gardens to enjoy the city's skyline.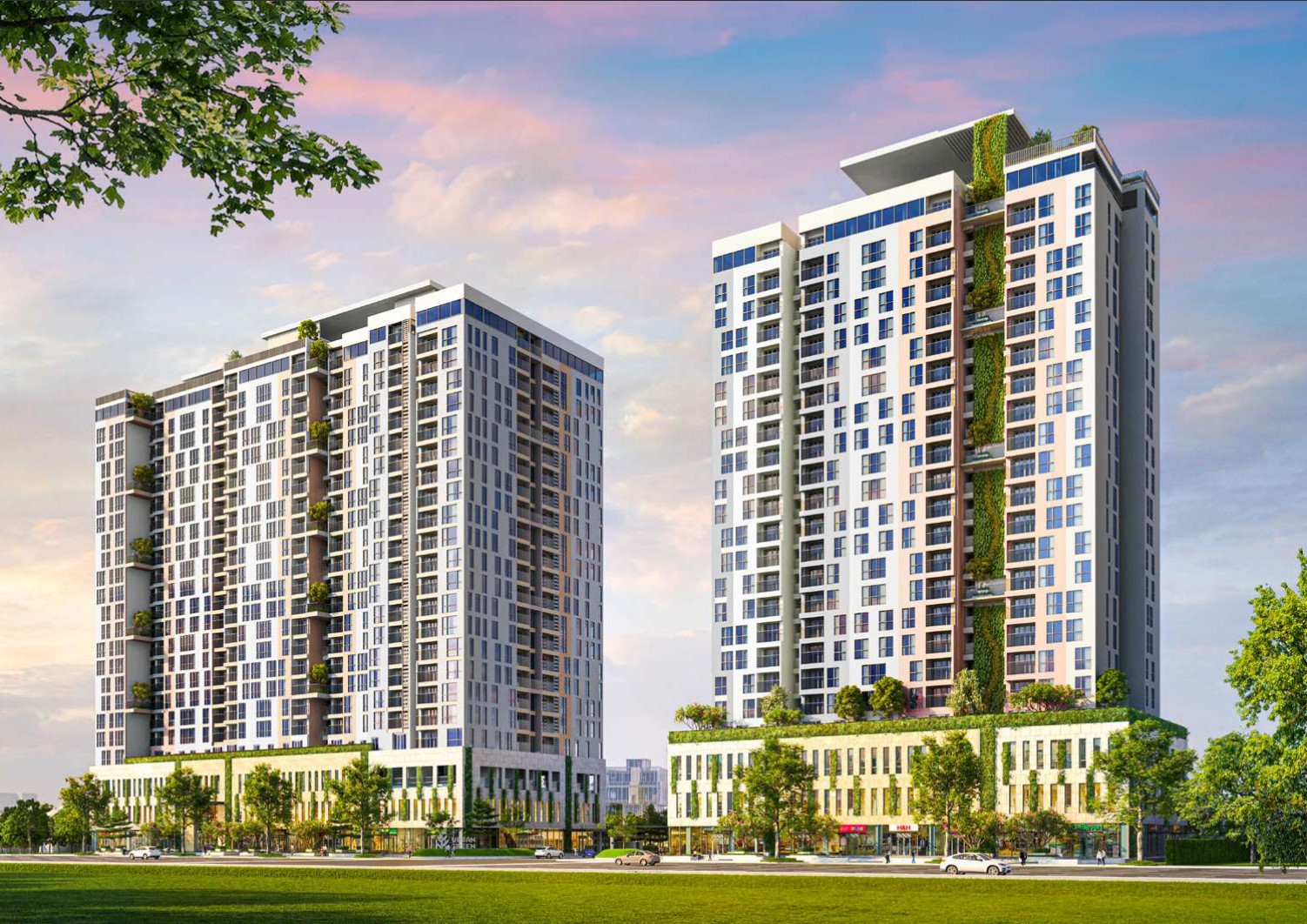 With the talent of designers from Landsculptor, The Hybrid Habitat model is applied to Urban Green's landscape design. This is the perfect combination of dynamic urban rhythm with the peace of green gardens; it meet Kusto Home's requirements for a project area with the best values "best of both worlds".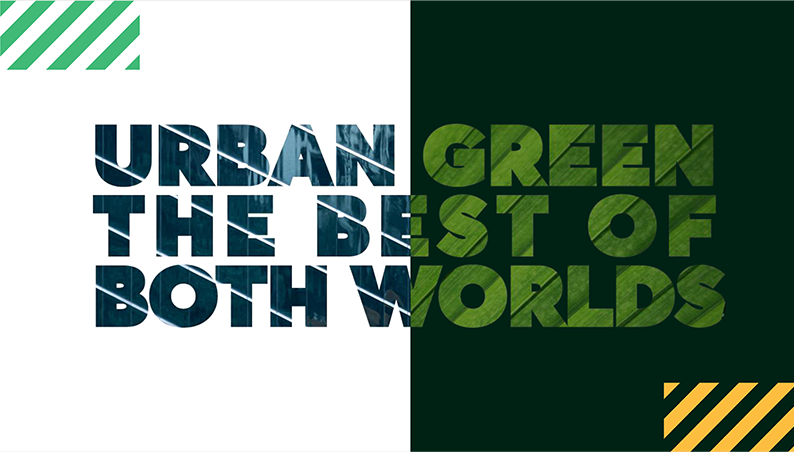 A clever design incorporates the three natural components of water, trees, and fresh air, which energizes and calms the living area. Urban Green is a perfect location for healthful outdoor activities since the wind and sun work together to give shelter and a mild breeze for most of the year, whether it's winter or summer.
The multi-layered green garden system brings an absolute relaxation space for Urban Green. Vivid colors harmonize the breath of tropical forests with the dynamic rhythm of modern urban life.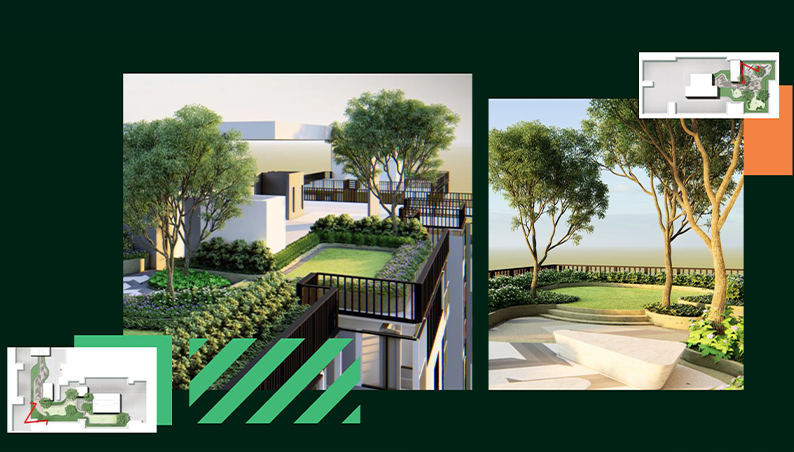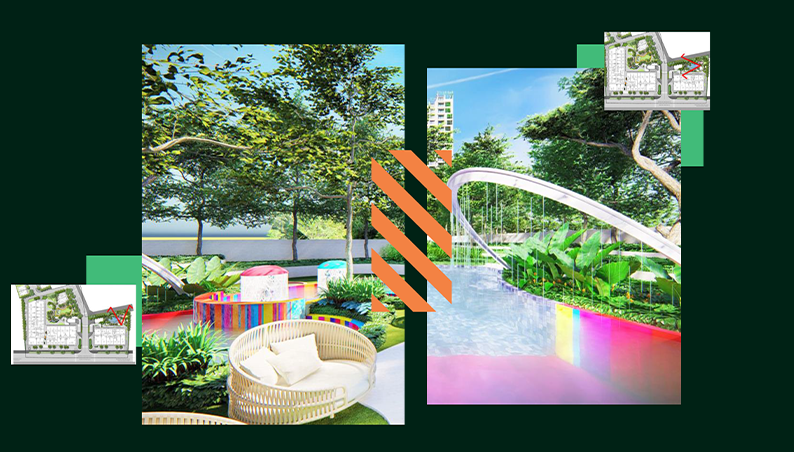 With Urban Green - All generations of a family can enjoy life to the fullest: 
For family: BBQ garden, camping lawn, outdoor event area, restaurant, coffee shop,...
For children: Outside and in-home Library, Balloon pool, Children's playground with tree houses, Discovery playground, vegetable garden.
For parents: Swimming pool and garden gym, Relaxing pool, Jacuzzi Lake, Jogging track, Co-working area.
For elders: High green walkway, Meditation Garden, Outdoor yoga yard, Reading garden.
THE BLISS Tower Exclusive Amenities
1. Overflowing swimming pool 25m
2. Children's swimming pool
3. Relaxing pool with sun loungers
4. Bubble Lake
5. Fitness and yoga room
6. Discovery playground for kids
7. Community Room
8. Reading Garden
9. BBQ area and garden dining 
10. Outdoor yoga yard
11. Co-working area
Terrace garden: Cloud foot garden, meditation garden and relaxing rocking chair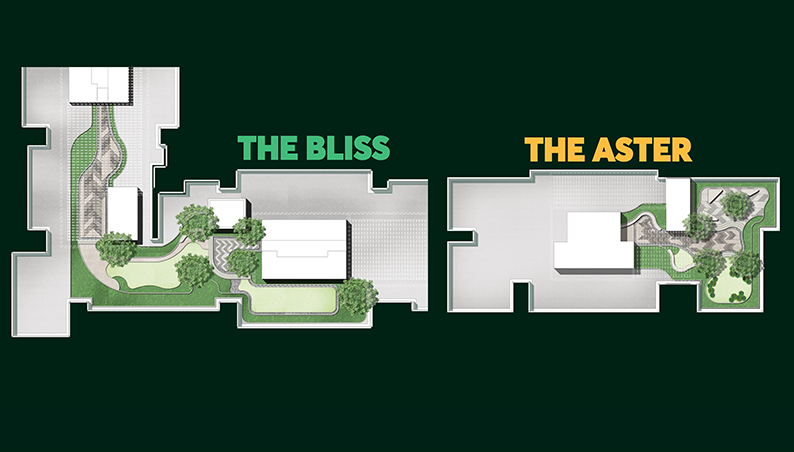 THE ASTER Tower Exclusive Amenities
1. Overflowing swimming pool 25m
2. Children's swimming pool
3. Relaxing swimming pool
4. Jacuzzi
5. Waterfall
6. Sun loungers
7. Sunken garden
8. Bathing area
9. Children's playroom
10. Gym/yoga room by the lake
Co-working area: floor 2
Terrace garden: cloud foot garden, garden yoga, relaxing chair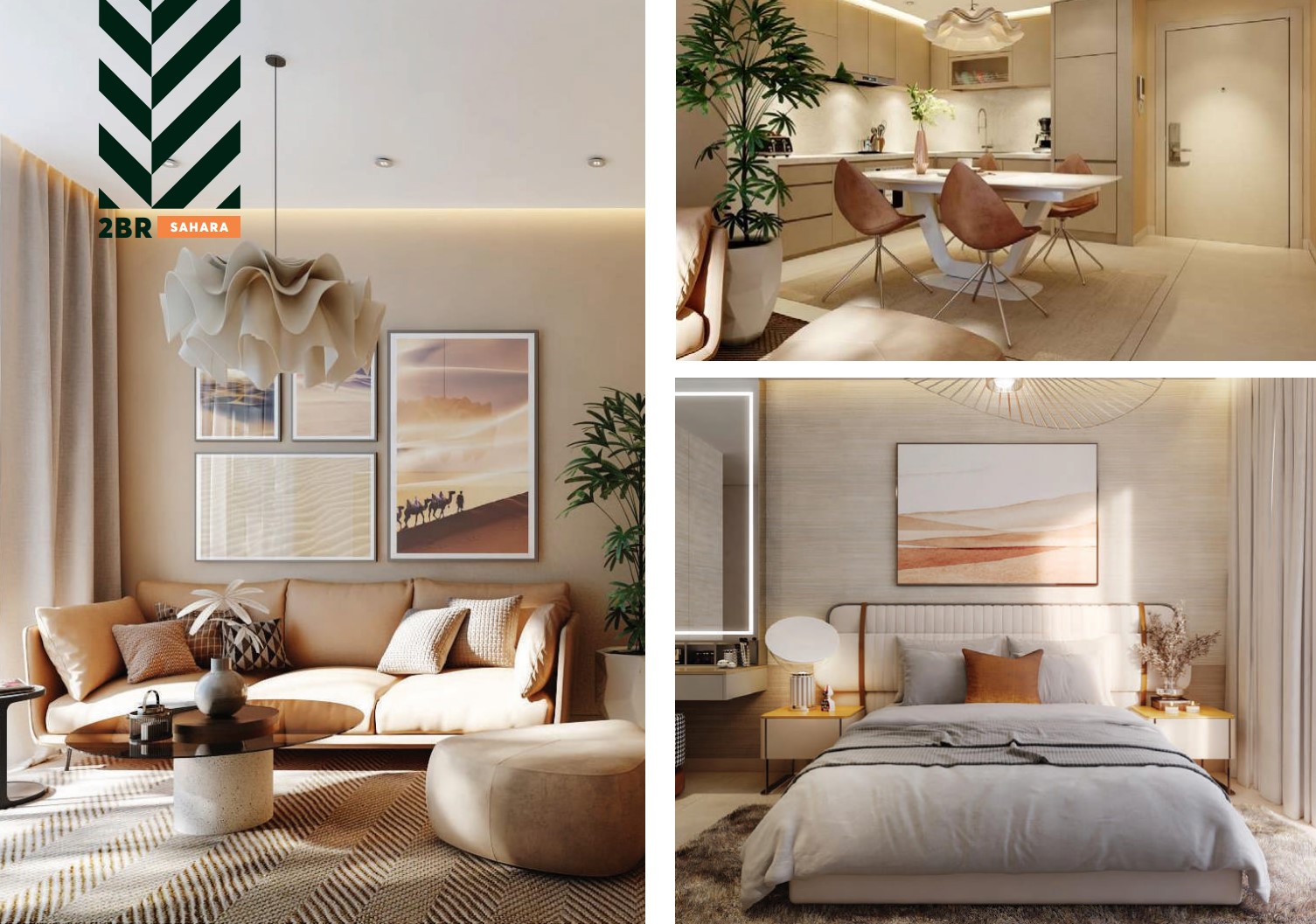 SALE POLICY AND PRIVILEGES:
Includes 3 flexible payment methods depending on the financial situation of customers:
Payment with own capital according to a standard progress

Support interest rates on bank loans from investors

Quick charge with own capital and get incentives up to 8%
In addition, Urban Green also has the policy to support interest rates on bank loans with an attractive interest rate package:
Support interest rate up to 70% of the contract value

0% interest rate within 18 months of the date the purchase and sale agreement was signed or when the investor provides notification that the apartment has been handed over, whichever occurs first.

Free early repayment during the interest rate support period

Grace period for principal within 1 year from the time of disbursement
Urban Green: A lively green oasis in the heart of the city. A world of gadgets for you to experience the joy of living with your loved ones daily.

VIPROPERTY CO.,LTD
Mua bán, Cho Thuê, Quản lý, Thiết kế & cung cấp nội thất căn hộ chung cư.
PURCHASING, LEASING, MANAGEMENT, FURNISHING APARTMENT
购买、出租、管理、设计与家具供应。
☎ Hotline: (+84) 986 888 100
✉️ info@viproperty.vn
-----------