Project Insight - Ecogreen Saigon
Eco Green Saigon is a complex project of Commercial – Service – 5-star Hotel – Apartment – Shophouse located on Nguyen Van Linh Street, District 7, invested by Xuan Mai Corp. This is the largest planned complex project in southern Saigon with an area up to 14 hectares. The first building of the project started building in the first quarter of 2018 and is expected to be completed in the third quarter of 2020.
On 09/09/208, the launching ceremony of the HR1 Building Eco Green Saigon project attracted the special attention of customers, as evidenced that 80% of the apartments of HR1A and HR1B buildings were sold.
LOCATION
Eco Green Saigon is located in the façade of Nguyen Van Linh Street, Tan Thuan Tay Ward, District 7, the gateway area connecting the three largest urban areas of Saigon which are the center of District 1, Thu Thiem area, and Phu My Hung. From the project, residents can easily transport into the center of District 1 through Nguyen Tat Thanh street (width of 37 - 42m) and Nguyen Thi Thap street (width of 35m). A quick connection to Thu Thiem new urban area via Phu My Bridge and Thu Thiem 4 Bridge.
The South of the project is adjacent to Huong Tram park which is more than 20 hectares wide, so the living environment here is really fresh and cool. At the same time, the project is located near important routes such as Vo Van Kiet, Highway 50 to the remote provinces, Highway 1A, Nguyen Huu Tho Street, Ben Luc - Long Thanh Expressway, ... very convenient to transport to the fringes and neighboring provinces.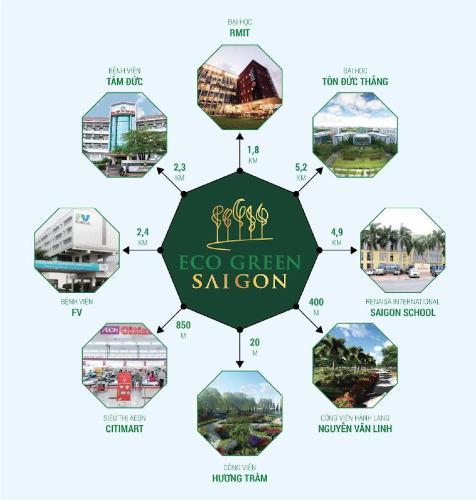 - Only 2 km away from Phu My Hung urban area
- 3 Km away from District 2
- 5 minutes transported by car to District 1
- Distance from adjacent districts: 10-20 minutes transported by car
- Near RMIT International University, Ton Duc Thang University, University of Finance and Marketing, ...
- Near SC Vivo City, Crescent Mall, Lotte Mart, ...
- Near Tam Duc Heart Hospital, Phap Viet Hospital, ...
DESIGN
Eco Green Saigon offers 1,000 luxury apartments to the market, providing a luxurious and comfortable living space. The apartments are open, minimalistic, and arranged to catch light in order to optimize the area, promote the use of each room, and create a comfortable and pleasant feeling when living in.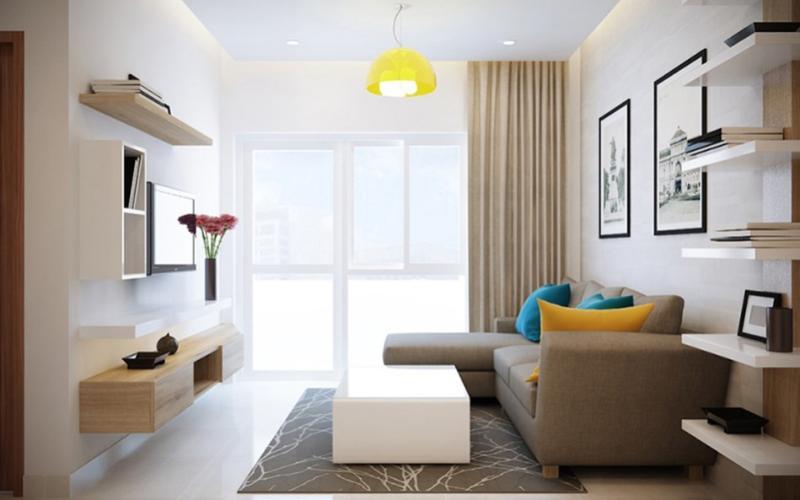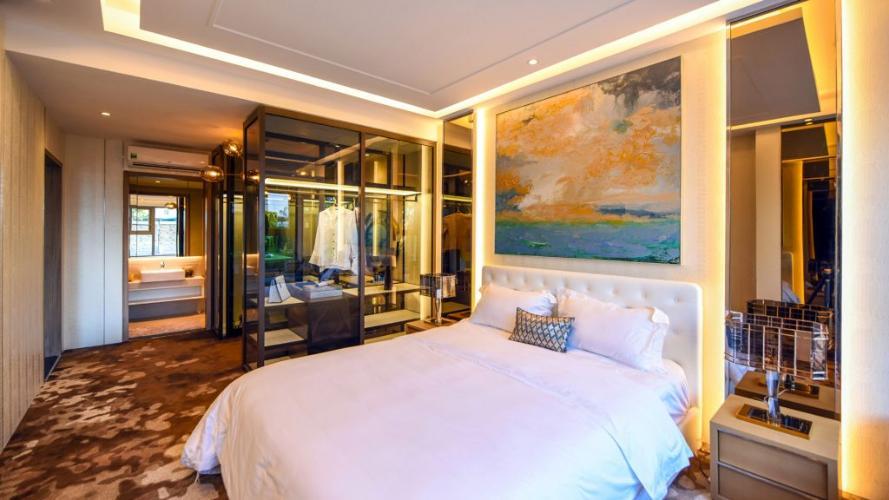 Designed by a team of architects from Australia, the apartment buildings are designed in a 3-wing shape, curved along Nguyen Van Linh Boulevard. This special design will catch the sun and wind better and create more open views of the center of District 1, Thu Thiem, Phu My Hung, Huong Tram Park, and 2 branches of Saigon River surrounding the project. Besides, the density of apartments/floors is quite low, so it ensures the highest privacy for residents.
INTERNAL UTILITIES
The interior of Eco Green apartment project has been invested very carefully by the Xuan Mai Corp in every detail. Some of the internal facilities include an internal pool area, outdoor BBQ area, children's play area, shopping malls, restaurants, an amusement park for adults and children, community room, Gym, Yoga, green park, artificial lake, a walkway in the project, etc. You can find the right services without having to go far.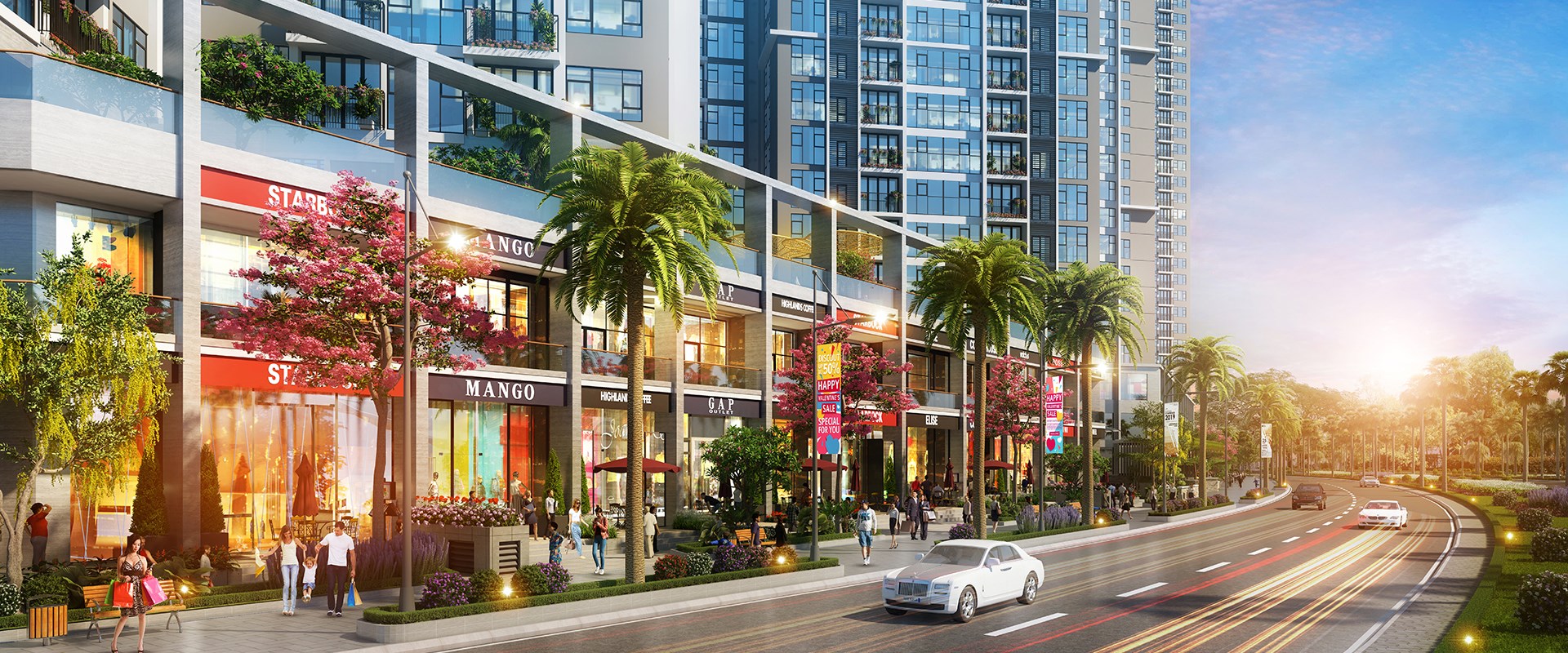 In addition, due to its proximity to major urban areas such as Phu My Hung, Thu Thiem, and the center of District 1, the project also inherits the external utility system: Phap Viet Hospital, Tam Duc Hospital, Dai University. studied at RMIT, Ton Duc Thang University, University of Finance - Marketing, SC Vivo City, Cresent Mall, ...
POTENTIAL FOR FUTURE DEVELOPMENT
Southern Saigon area is always the ideal destination because of infrastructure, complete transportation, and great potential for development. Eco Green Saigon Dist. 7 is located right in the façade of the city's arterial roads, increasing the ability for regional connection, the transportation of residents is much more convenient, avoiding traffic jams, pollution, etc. This position is the potential for more profitability and price increases in the near future.
A series of modern internal and external utilities, promises to bring high profits, creates a quality life, helps residents to be satisfied while living here.
In the coming time, Phu My Hung urban area will develop rapidly making it natural to attract customers. And this is an ideal opportunity to invest capital in a project to own an apartment that is able to raise prices quickly by renting back the apartment or surfing investment. Certainly in the future, Eco Green Dist. 7 project promises to be the most lucrative investment channel for all customers.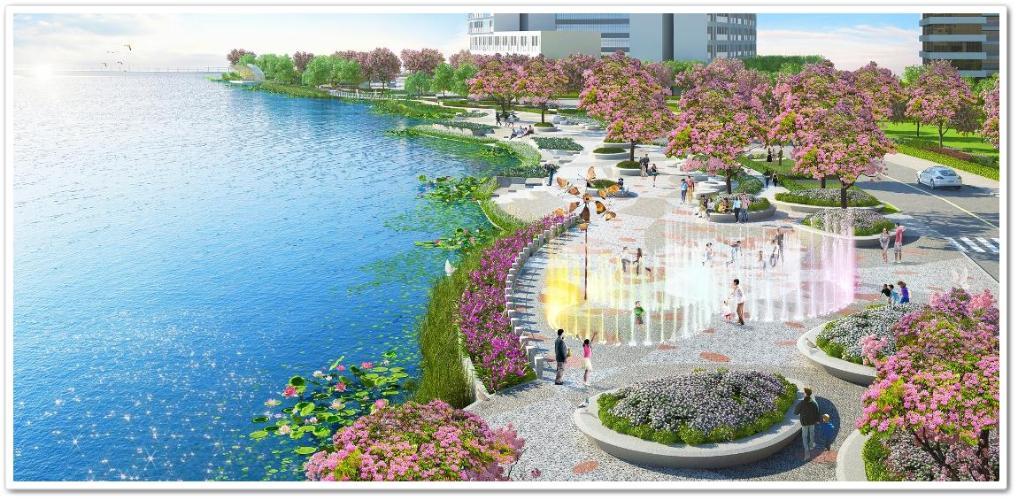 PRESTIGE FROM THE DEVELOPER
Xuan Mai is one of the leading developers in Vietnam in the fields of civil construction, industry, transport infrastructure, and real estate investment. Xuan Mai Corp was established in 1983 and until now Xuan Mai Corp has more than 34 years of establishment and development.
By brand reputation over 30 years of development in the real estate market and seasoned construction experience, Xuan Mai Investment and Construction JSC is an EPC contractor for Eco Green Saigon project. Being invested and constructed by a big developer and reputable contractors are big plus points for Eco Green City. The project promises to bring peace of mind and satisfaction to all customers.