De La Sol: Concert for the future generation
Located in the heart of District 4 - Ho Chi Minh City with three sides facing the river, the De La Sol project is like a concert in the middle of a dreamy pearl island in the city's heart. Not only carrying a unique concept and catching up with the trend exclusively for the dynamic young generation but De La Sol is also invested by the most prestigious and famous "conductor" in Asia - CapitaLand Group. This fascinating work of art will be completed in early 2024 and is expected to bring tremendous value to the owner.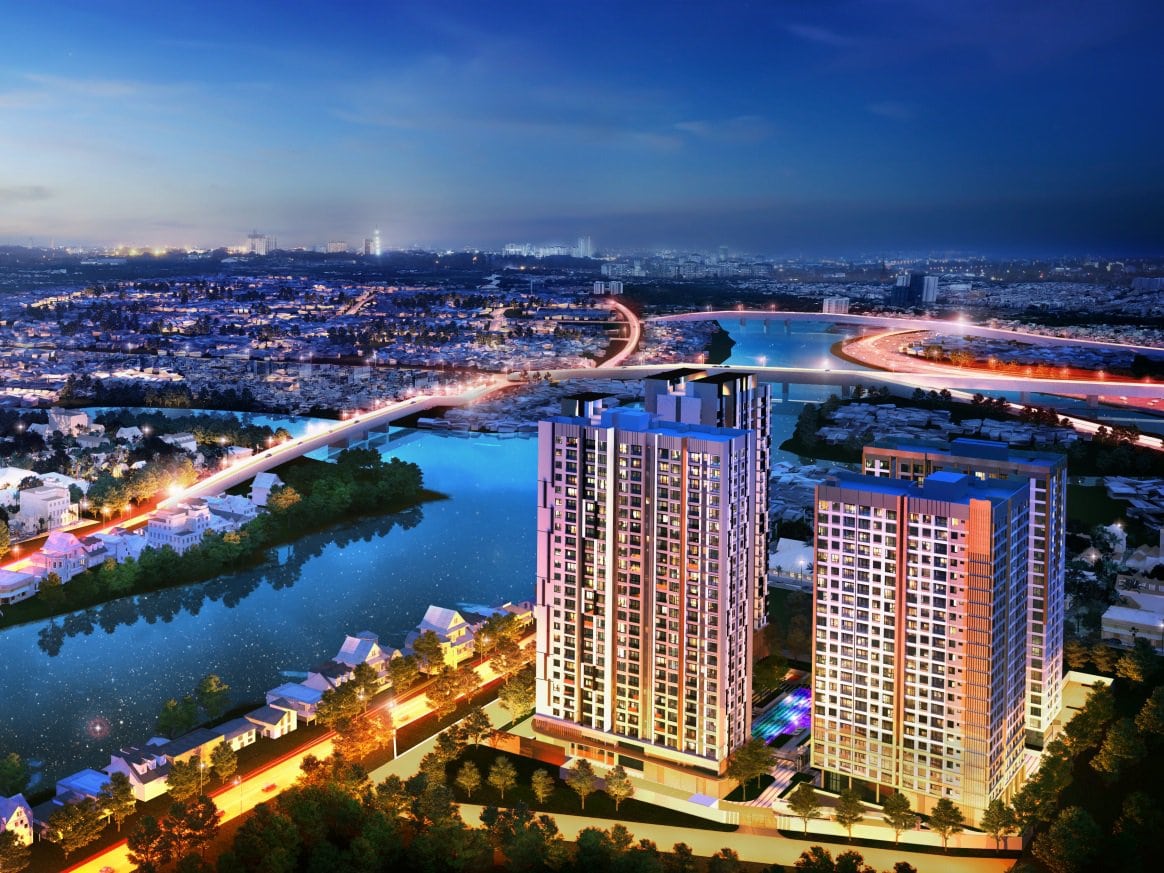 1. DE LA SOL OVERVIEW:
What is unique about the De La Sol project compared to other projects?
Inspired by music, the De La Sol project has a unique concept and anticipates the trend exclusively for the dynamic young generation. It is invested by the most prestigious and famous "conductor" in Asia - CapitaLand Group. The fascinating art masterpiece of De La Sol is expected to bring tremendous value to the owner.
● Convenience: Convenient to move to critical districts of Ho Chi Minh City when the project is located in the heart of District 4 of the city
● Prosperity and affluence: According to feng shui, the De La Sol project is located at the intersection of 3 streams, bringing the best for residents.
● Unique and creative design: The towers are designed according to the types of musical instruments and the subdivisions are inspired by the music genres
Trade name: DE LA SOL
Project Location: No. 1 Ton That Thuyet, Ward 01, District 04, HCMC
Investor: Viet Hung Phu Real Estate Investment and Trading Joint Stock Company (100% owned by CapitaLand Limited)
• Architectural design: RSP Architects Planners & Engineer (Singapore)
• Landscape design: TK Studio
• Electromechanical Design: ASP Design Consultant
• Interior Design: PADEE (dDED) Studio
• Feng Shui Consultant: Joey Yap Consulting Group
• Project and Architecture Management: Capitaland
• Engineering: Tham & Wong (Vietnam)
• Project cost estimate: Arcadis (Vietnam)
General construction contractor: CONFICO
Construction of pile foundation: Construction Design & Consultant Corporation (Cideco)
Management and operation: Ascott
Total area: 1.45 Ha
Building density: 29%
Type of investment: Luxury Apartment, Commercial Area, Basement Parking
Project size
• Apartment: Alto: 482 – Bass: 184 – Cello: 204
• Number of stages: Alto: 23 – Bass: 21 – Cello: 21
Utilities: Alto tower reception lobby, co-working space, trampoline house, Maestro children's play area, gym, outdoor cinema in the air, swimming pool, Jazz lake.
Area apartment
• 1 Bedroom: 60 m2
• 2 Bedrooms: 72 – 78 m2
• 2 Duo bedrooms 84m2
• 3 bedrooms 93m2
• 3 bedrooms Duo 100m2
• 3 bedrooms Trio 86m2
• 4 bedrooms 140m2
Status: Topped off
Estimated handover time: Q1/2024
Legal: pink book
Ownership
• Vietnamese people have long-term ownership
• Foreigners own 50 years
2. DE LA SOL LOCATION
Where is De La Sol Apartment located?
De La Sol project is located at 1 Ton That Thuyet Street, Ward 18, District 4, Ho Chi Minh City. Only 300m from Ong Lanh Bridge to go to District 1. The project's location is appreciated by investors and experts regarding feng shui but is also convenient for mobility and future profitability.
De La Sol's connectivity in District 4 to critical areas:
● 10 minutes: District 1 center and Thu Thiem urban area in District 2.
● 20 minutes: Phu My Hung urban area, District 7.
● 30 minutes: Tan Son Nhat airport, Tan Binh district
In the future, the location of De La Sol will become more and more convenient for residents to move around with the benefit of the critical transportation facilities of District 4. And of the city, such as the construction of Thu Thiem Bridge 3 connecting with Thu Duc city.
3. DE LA SOL INVESTOR:
Who is the investor behind De La Sol?
CapitalLand investor with Asia's leading reputation for many years
We may not need to mention this Singapore-based corporation when they are so famous and familiar to all of us. CapitaLand has been a reputable real estate face for many years in the Asian market. In particular, Capitaland has also focused heavily on investing in the Vietnamese market for many years and has set up its main business in Vietnam, Capitaland Vietnam, in Ho Chi Minh City. With a focus on the luxury segment, projects possessing prime locations and unique features in each project, Capitaland's projects are always beautiful to their owners—some typical projects of Capitaland in Ho Chi Minh City, such as D'Edge Thao Dien, Define Capitaland Project, Feliz en Vista, De la sol.
4. DE LA SOL UTILITIES
What makes De La Sol stand out?
Not only outstanding in its unique design associated with art, but De La Sol also brings the technological aspects with more than 50 modern and most modern facilities. All utilities are designed consistently and harmoniously in each architecture of each subdivision. Thereby fully meeting residents' spiritual life needs without breaking the theme music's uniqueness. You can find in De La Sol any facilities you need, such as a shopping center, supermarket, gym, and swimming pool. In addition, you will also find here utilities that you do not expect and cannot find in any other project:
● Trampoline: the first project in Vietnam to own a trampoline house, De La Sol is proud to support maximum physical and recreational activities for residents
● The Cadenza Reception Hall symbolizes the free spirit of music, with emotional touches such as the art wall and acoustic surround
● Utilities on the ground floor: banquet hall, Jazz lake, aerial jacuzzi, outdoor cinema, tea garden, captivates people's hearts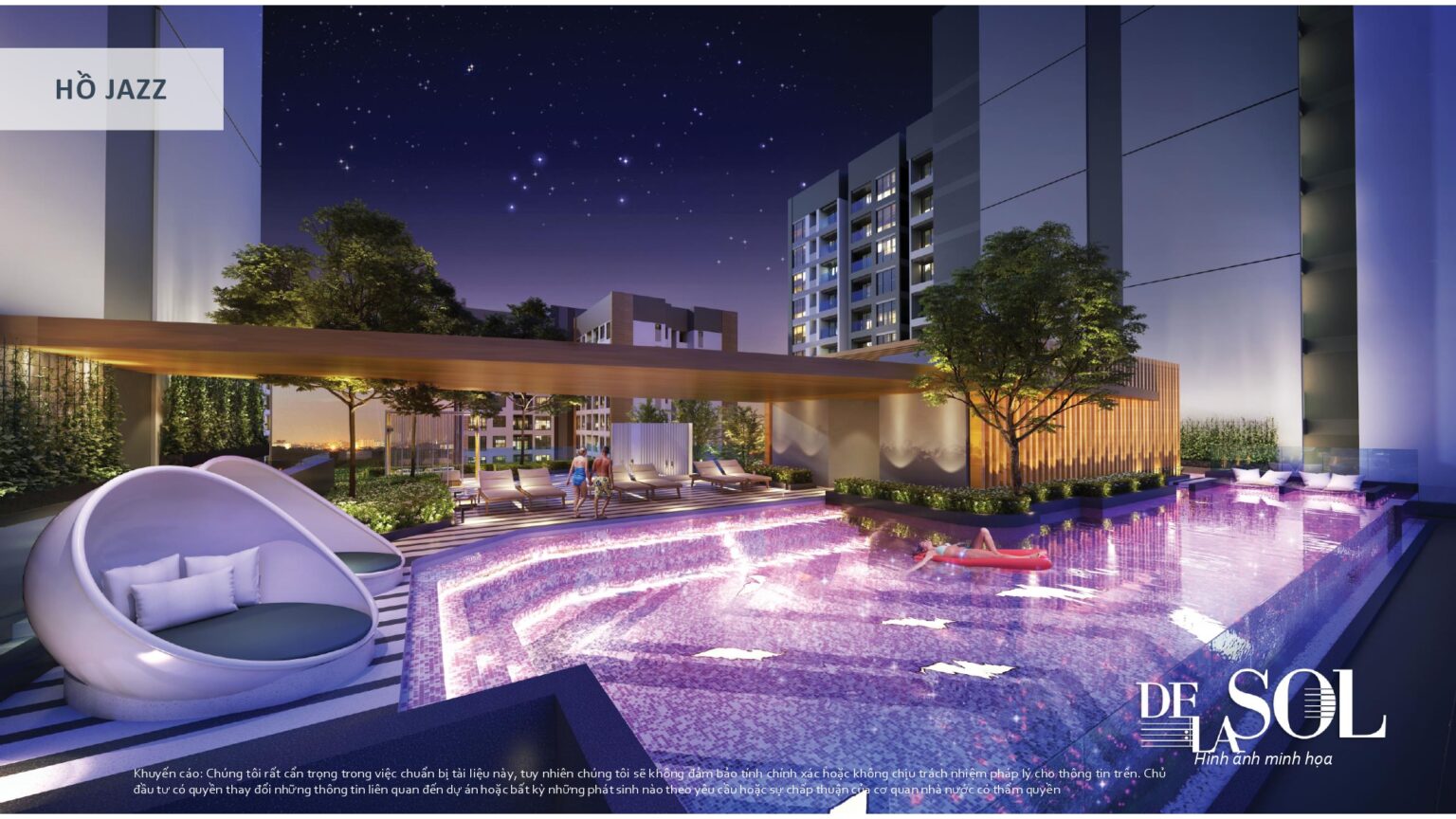 5. DE LA SOL APARTMENT DESIGN: CLASS AND SOPHISTICATION:
With luxurious and elegant European-style furniture, De La Sol brings a cosy, relaxing, but also modern space for young people. In addition, with an emphasis on the openness of the apartment, all functional areas of De La Sol are ventilated to help ventilation and ventilation. Each bedroom is equipped with large windows to maximize natural light and ventilation. Investor Capital will hand over almost all furniture, such as shelves, cabinets, stoves, hoods, ovens, and water heaters.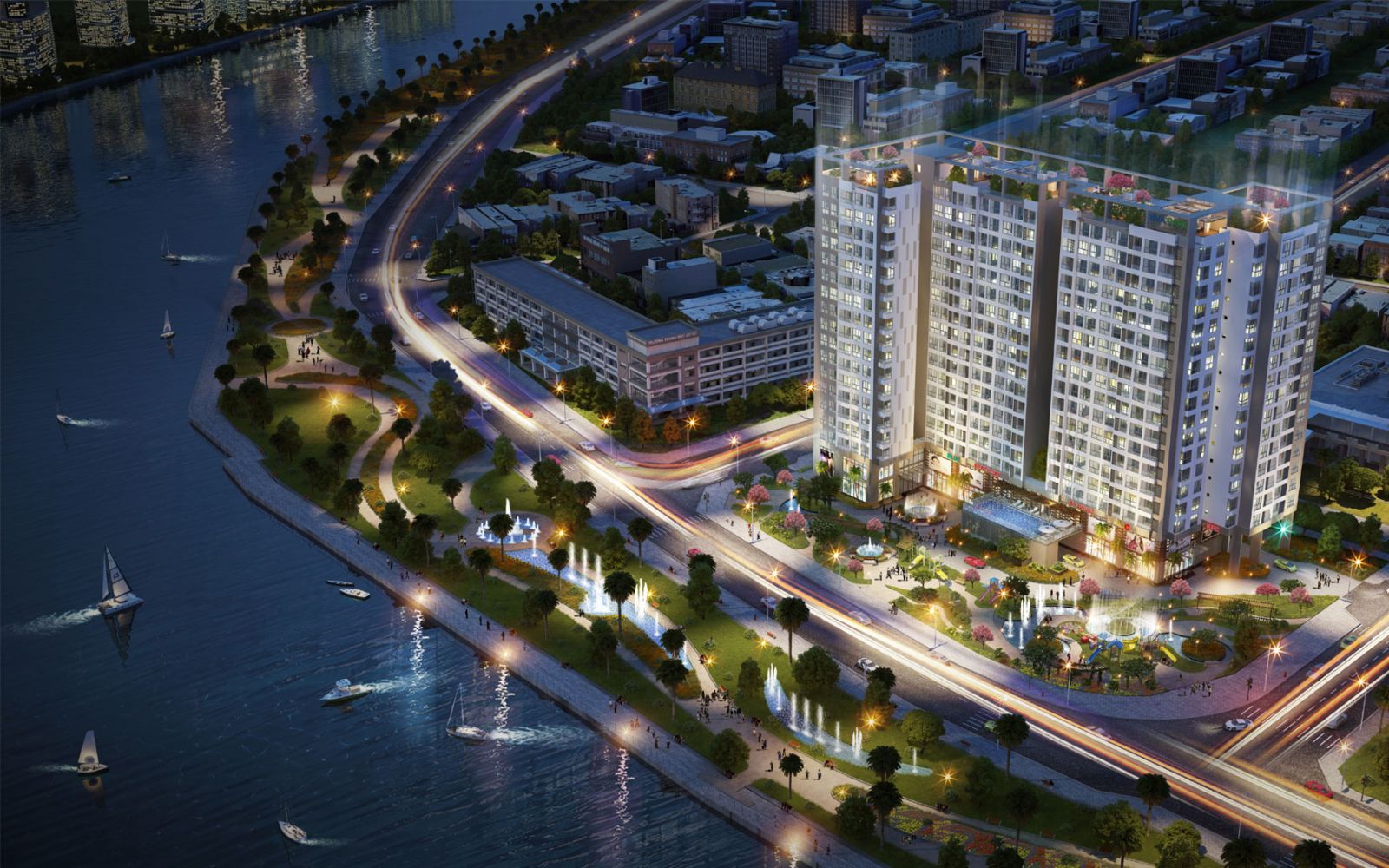 In addition, the attractiveness of De La Sol apartments lies not only in the design but also in the double key (Dou Key) and triple key (trio key) apartment models Capitaland first introduced in Vietnam. Male. This will help each apartment be organized as 2 or 3 apartments with full functionality and primary essential areas such as the kitchen, bedroom, living room, and bathroom. As a result, De La Sol meets the needs of residents living and renting and provides enough privacy for families from 2 to 3 generations (grandparents, parents, and children).
6. ESTIMATED PRICE DE LA SOL:
According to the latest survey of 3/2023, the expected selling price of De La Sol is around 96 million / m2 (clearance area) without VAT.

VIPROPERTY CO.,LTD
Mua bán, Cho Thuê, Quản lý, Thiết kế & cung cấp nội thất căn hộ chung cư.
PURCHASING, LEASING, MANAGEMENT, FURNISHING APARTMENT
购买、出租、管理、设计与家具供应。
☎ Hotline: (+84) 986 888 100
✉️ info@viproperty.vn
-----------