Aqua City: A 1,000-Ha Urban Area Will Welcome Residents At The End Of The Year
Aqua City ensures implementation progress, creates a livable urban area in harmony with the natural landscape and will welcome residents to live by the end of this year.
Project name: Aqua City Dong Nai
Location: Huong Lo 2 Street, City. Bien Hoa, Dong Nai Province
Developer: Novaland Group
Scale: More than 1000 ha
Product area:

ShopHouse: 6 x 20m; 8 x 20m; 10 x 20m
Adjacent Townhouses: 6 x 20m; 6 x 25m; 8 x 20m
Villa: 10 x 20m; 12 x 20m; 15 x 25m
Boutique: 8X20M (floor area over 1000m2)

Subdivision: Including eight subdivisions

The Sun Harbor

Phoenix Island

River Park 1,

The Grand Villas

The Valencia

The Stella

The Elite

The Suite

Utilities: 385 hectares of water surface area, 25 hectares of educational facilities at all levels, 3 hectares of medical facilities, 32 km of river roads, 20 theme parks, 70% of green areas and public utilities
Internal facilities: SkyView overflow swimming pool on the 20th floor, restaurant system, commercial center, children's play area, gym, park area, Bowling area and VIP reception room.
Legal: Long-term ownership for Vietnamese, 50 years for foreigners (depending on subdivision)
Handover: Finished outside, rough inside
Commencement: 05/2019
Official handover: expected Q2/2023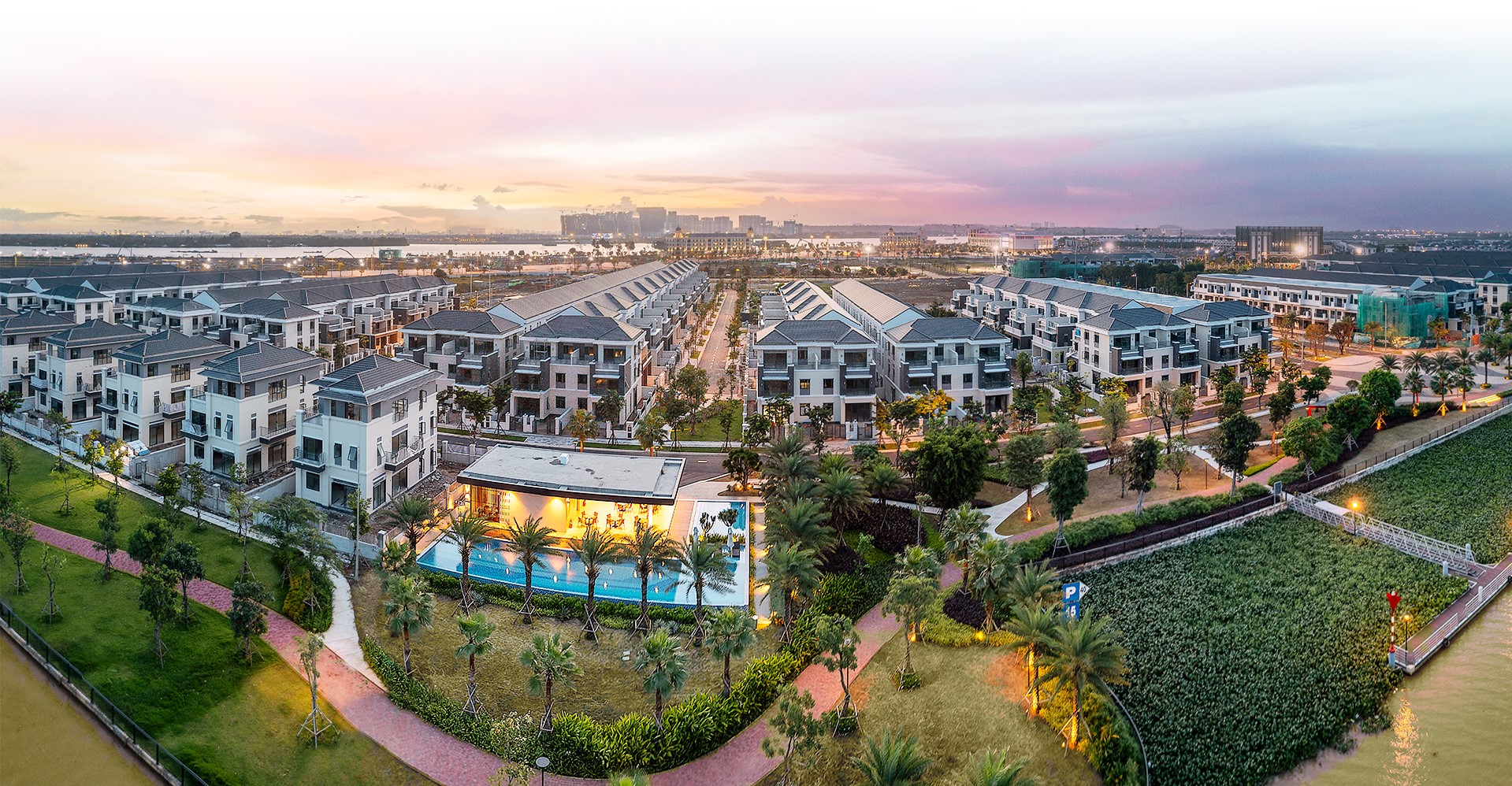 PROJECT LOCATION:
Aqua City owns the advantage of connecting at the eastern center of Ho Chi Minh City. It is located in the frontage of Huong Lo 2 Street, Long Hung Commune, Bien Hoa City. This is the focal area for planning critical projects in the South and also the focal point of the arterial traffic routes in the Southeast region. Aqua City residents can easily connect to Ho Chi Minh City and other centers and outstanding utilities in the area. Surrounded by 32km of river, Aqua City's smart eco-urban area was built and developed into a closed "all-in-one" complex. The city is expected to start operating and welcoming residents by the end of 2022
5 minutes: AquaCity -> The largest amusement park in Southeast Asia - Son Tien

7 minutes: Long Thanh Golf Course, which is one of the most beautiful golf courses in Southeast Asia

10 minutes: Shing Mark International Hospital, a joint venture between the University of Medicine and Taiwan

15 minutes: AquaCity -> National University Center Ho Chi Minh City

15 min: Fulbright University Vietnam, one of the world's top liberal arts universities.

Only 15km from Long Thanh International Airport (officially under construction on January 5, 2021) and nearly 6km from the last station of the Ben Thanh - Suoi Tien Metro line.
In particular, urban residents living in Aqua City easily move to Ho Chi Minh City via the Long Thanh - Dau Giay - Ho Chi Minh City Expressway, from Huong Lo 2 through the Vam Cai Sut Bridge to the highway.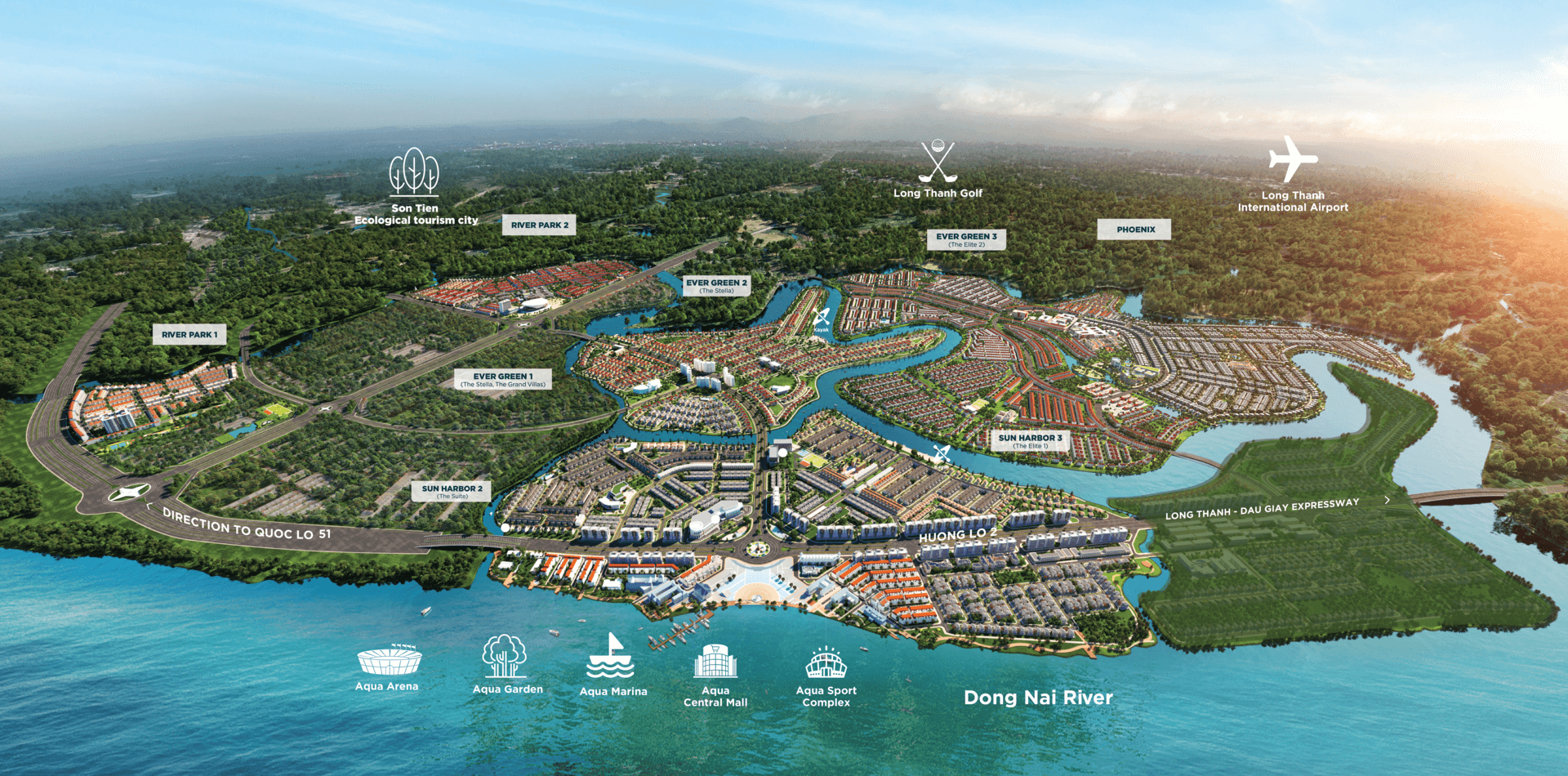 UTILITIES OF AQUA CITY:
Many facilities have been developed to date, bringing new vitality to the eastern megacity of Ho Chi Minh City, notably the marina square complex - Aqua Marina, Aqua Sport Center sports center, clubhouse chain, etc., security center Aqua Security Center. Many investors, business executives, and celebrities have shown interest in becoming future residents of this fantastic project.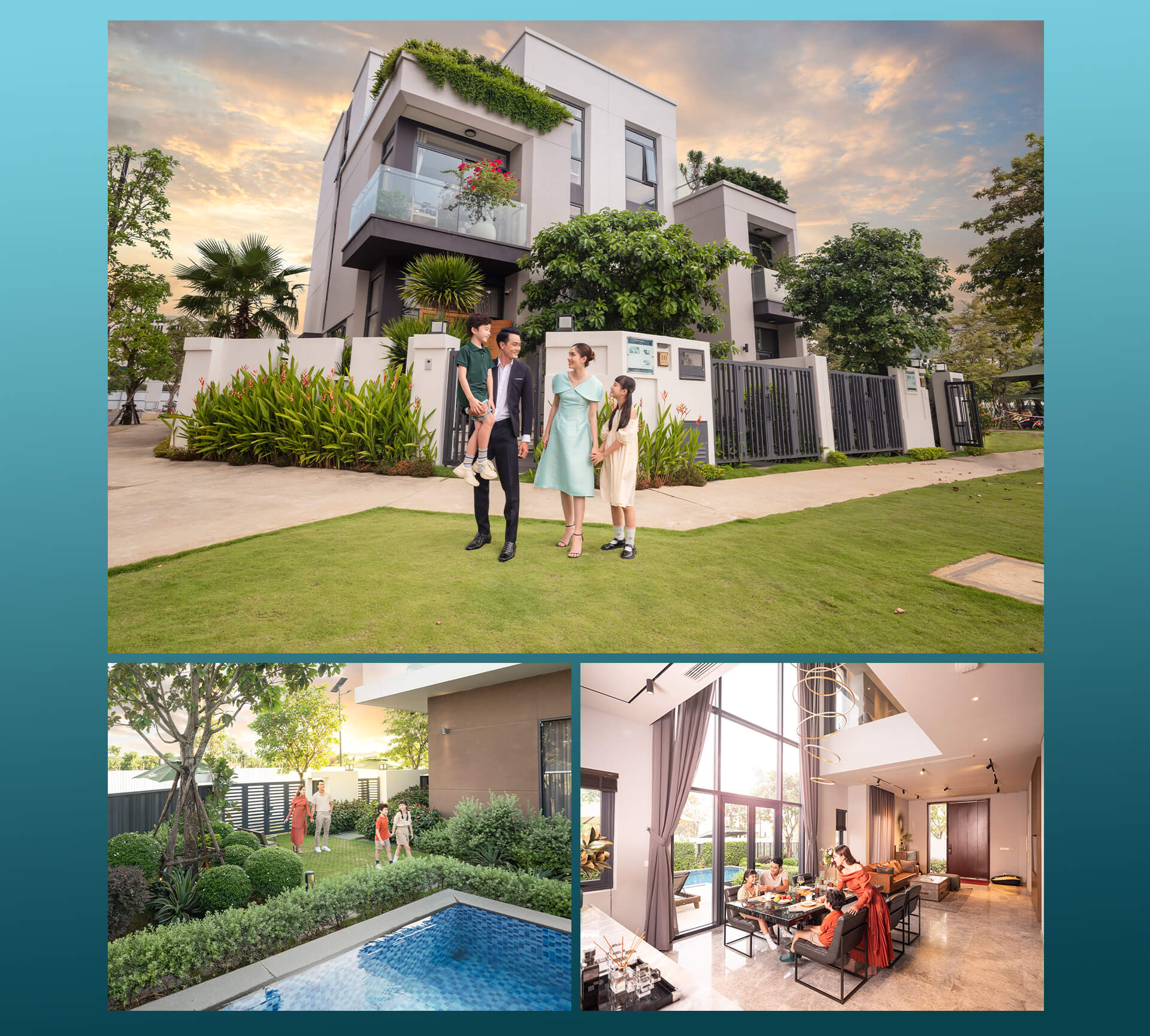 At the same time, Aqua City hosted a slew of local and foreign retailers, including Nova Mall, Nova Supermarket Baya, and a furniture and décor supermarket. Dynasty House Hong Kong Dimsum & Hotpot eateries; Sichuan Spice World Hotpot; Seorae BBQ, PhinDeli; Gloria Jean's Coffees; Baskin Robbins; Xing Fu Tang... all cater to those who love food. A wealth of amusement awaits families, including the CineWorld theater and the Aeon Fantasy with Kid's Box entertainment area.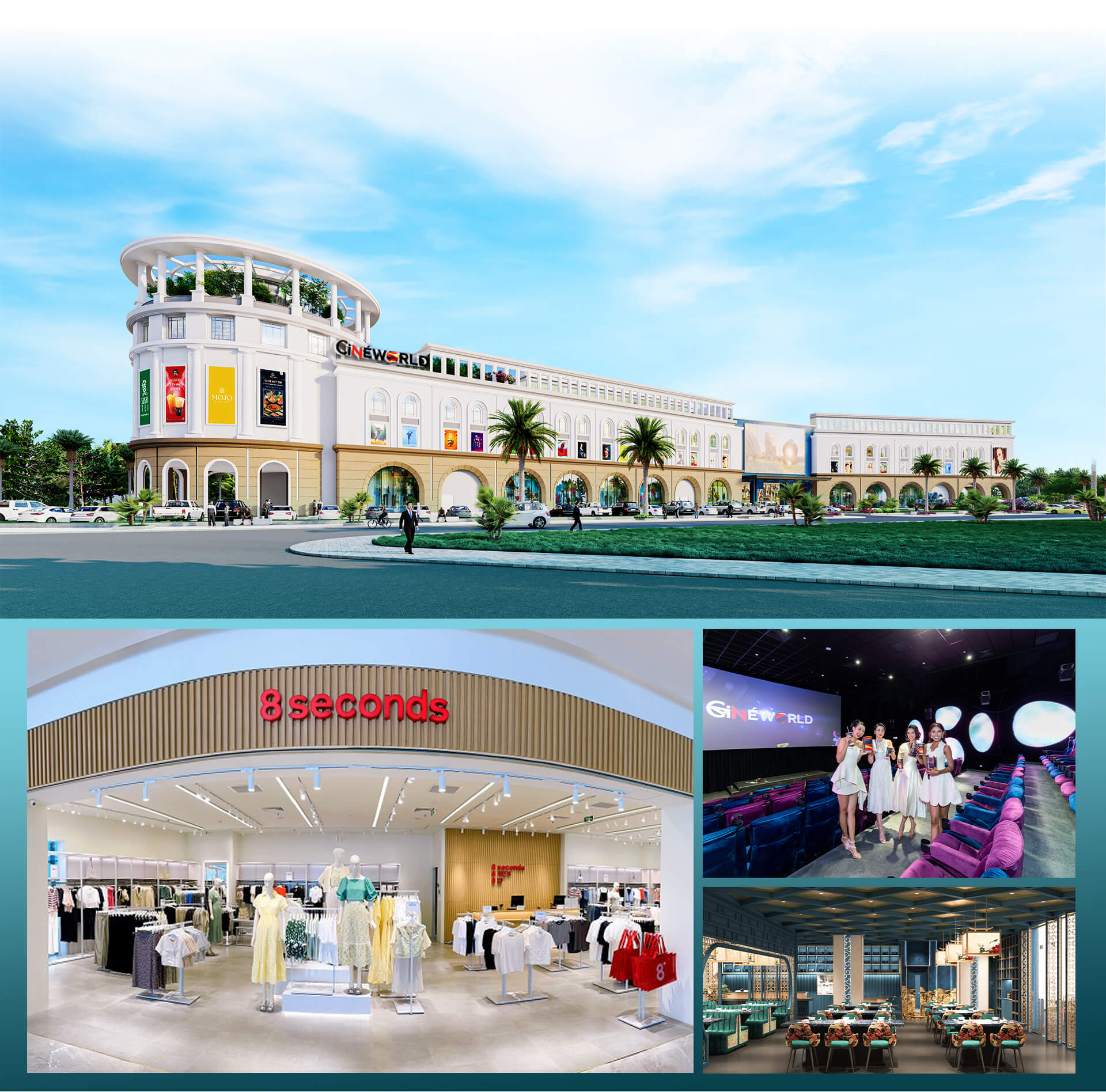 FUTURE DEVELOPMENT POTENTIAL:
Ms Vo Thuy Anh, Founder and Director of CIM Australia PTY LTD (an Australian firm specialising in real estate investment management), agreed that Aqua City had many characteristics and may be compared to large cities in Australia.
"I don't believe there is a well-planned urban development like Aqua City in Vietnam that can provide citizens with such a great living environment. The initiative is comparable to other habitable cities throughout the world. The Aura City of Sunshine Coast in Queensland (Australia), where I work" said the Vietnamese entrepreneur working in the United States.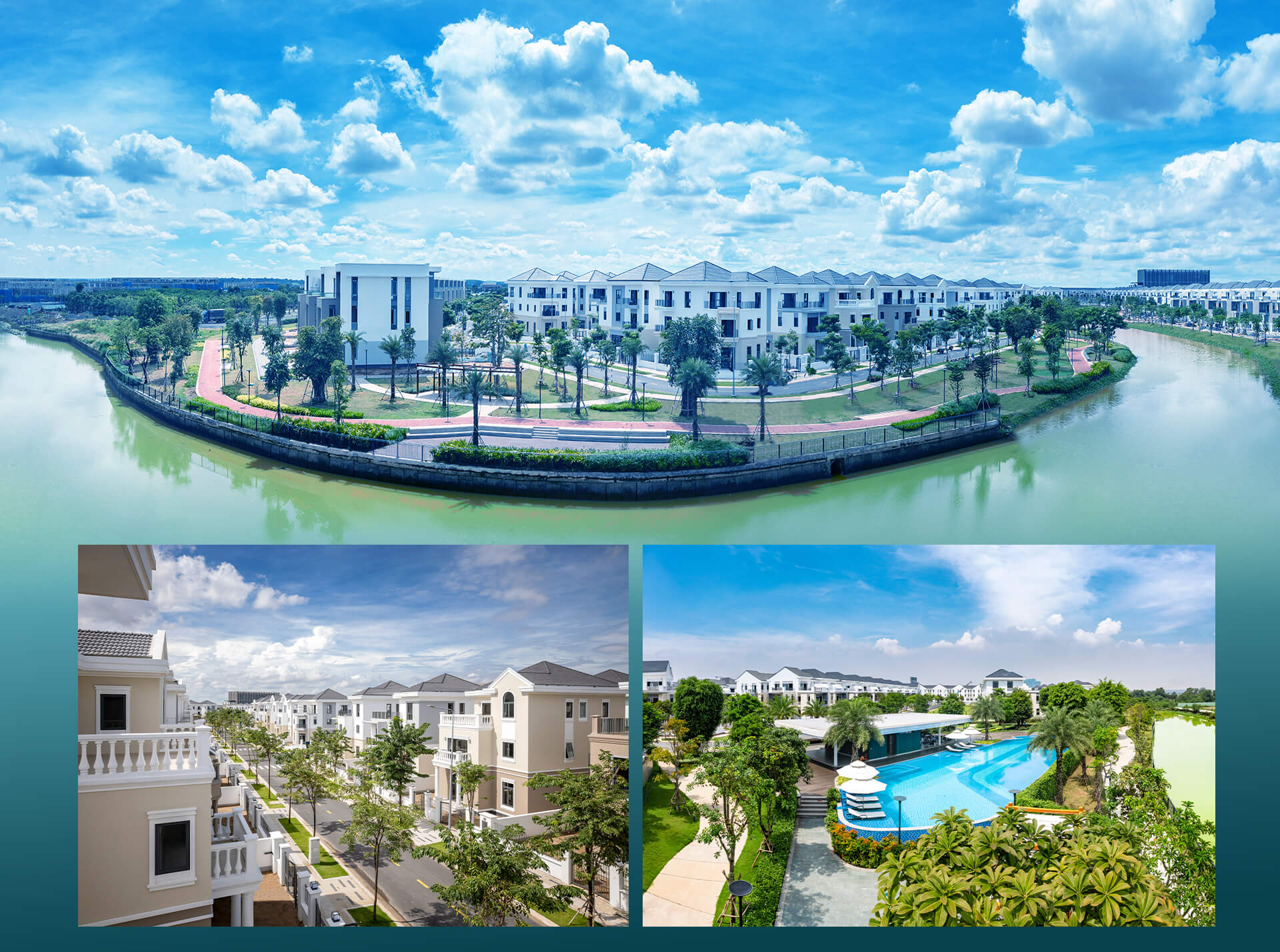 During a recent business trip to Aqua City, two Miss Earth 2020 - Lindsey Coffey and 2021 - Destiny Wagner stated that Aqua City perfectly converges the elements of "a habitable place" and is one of the most beautiful ecological cities with a healthy environment. This location is also suggestive of Rhode Island in the United States and the nations of France, Italy, and Spain visited by the beauties.
The involvement of this "great mandarin" also helps to solve the population increase problem outside Ho Chi Minh City's inner city center, supporting multipolar urban development in the southern area. In terms of urban planning, this is regarded as the unavoidable development pattern of each large city globally.
For additional information about the project, please get in touch with Viproperty:

VIPROPERTY CO.,LTD
Mua bán, Cho Thuê, Quản lý, Thiết kế & cung cấp nội thất căn hộ chung cư.
PURCHASING, LEASING, MANAGEMENT, FURNISHING APARTMENT
购买、出租、管理、设计与家具供应。
☎ Hotline: (+84) 986 888 100
✉️ info@viproperty.vn
-----------